Hugs for Harper Project

At Motley Rice, we take pride in helping those in need, giving back to our communities and supporting numerous organizations throughout the year that embrace causes close to our hearts. This holiday season, we created an exciting project to honor the memory of an amazing little girl: Harper Drolet.
In 2009, Motley Rice began sponsoring the "Kids Helping Kids" Holiday Card Project, which benefits the MUSC Children's Hospital. This wonderful program allows inspired young patients, their siblings and young friends of the Children's Hospital to paint holiday-themed works of art that become the front of holiday greeting cards. Throughout the holiday season, the cards are sold in the community by local banks, businesses, service organizations and volunteers. Each pack of 16 unique cards sells for $15, and 100% of the proceeds go to the children of MUSC.
The talented artist of Motley Rice's 2012 holiday card is Harper Elizabeth Drolet. Inspired by her powerful story and beautiful card, which MUSC also named the "Card of the Season," the firm selected The Hugs for Harper Endowment as our 2012 firm-wide holiday project recipient.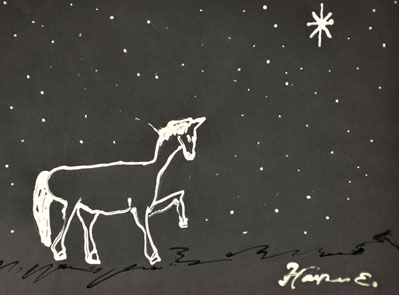 Harper was diagnosed in 2009 with Rhabdomyosarcoma, a rare form of pediatric soft tissue cell cancer. Nicknamed "the Mayor" at the clinic and children's hospital because she was known for supporting and encouraging other patients even when she was not feeling well, she underwent many treatments and surgeries but ultimately lost her battle with this rare cancer at only 11 years old. Through her "courage, strength and hope," Harper impacted, and continues to impact, many lives throughout the Lowcountry.
After her passing, Harper's friends and family began The Hugs for Harper Endowment, a foundation established in her honor that raises funds and provides grants for soft tissue cell cancer research with the goal of finding a cure. The Endowment's main purpose is to provide funds to pay for a full-time, annual research scientist. In addition, the Endowment provides grants to other local organizations and charities that Harper supported such as LEARN Horse Rescue.
Inspired by West Ashley's Sunflower Café, Motley Rice proudly sold more than 5,400 "hugs" (symbolized by individual paper links) to benefit The Hugs for Harper Endowment. Harper and her family loved going to the Sunflower Café, and, in return, the restaurant began a project to collect funds, or hugs, for her. Each paper link that was sold at the café represented a hug, and the owners regularly updated the sign outside the restaurant with Harper's hug count. Harper would often have her parents drive her by after chemotherapy treatments to see how many hugs she had gotten that day.
We were delighted to deliver more than 5,400 paper link hugs and more than $5,200 to The Hugs for Harper Endowment on Dec. 21, 2012. Thank you to everyone that helped with this project.
How you can still contribute
Consider purchasing holiday cards from Kids Helping Kids next year.
You can make donations to the Hugs for Harper Endowment all year long by visiting www.hugsforharper.org.