Charleston, S.C., Mayor John Tecklenburg proclaims Mesothelioma Awareness Day for 8th year
Charleston Mayor John Tecklenburg declared September 26 as Mesothelioma Awareness Day during a City Council meeting on Tuesday, Sept. 24, 2019. This marked the 8th year that Motley Rice has requested a proclamation and the day has been officially recognized in the City of Charleston.
"Motley Rice has done an exceptional job, not just representing individuals who've been [affected by] asbestos and mesothelioma, but by working to raise awareness of this rare and aggressive form of cancer through our community," Mayor Tecklenburg said while presenting the proclamation. "As we recognize this day, I hope we encourage more of our citizens to learn about effective treatments that have been developed for mesothelioma."
Motley Rice attorney Lance Oliver, who currently serves on the Board of Directors for the Charleston chapter of the American Lung Association, accepted the Mesothelioma Awareness Day proclamation on behalf of the firm, thanking the City, Mayor and Council members for their support and commitment to victims.
"It's always an honor to represent clients who did nothing more than go to their job and do a good day's work and they ultimately ended up the victim of corporate negligence and this disease," attorney Lance Oliver said while accepting the proclamation. "We want to praise our own government, Mr. Mayor and the City Council for taking the time to recognize this disease at this time."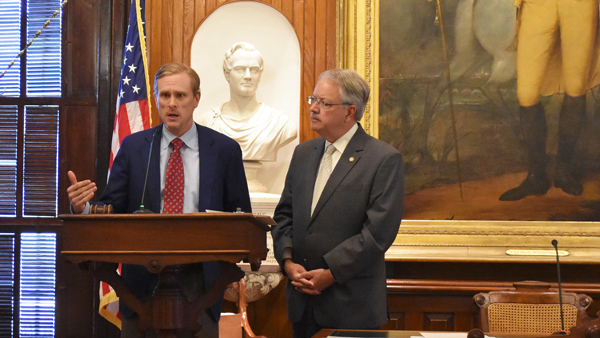 Mesothelioma is an aggressive form of cancer targeting the lining of the lungs, chest wall and abdomen, and is caused by exposure to asbestos. Victims are often diagnosed years, or even decades, after they were originally exposed. The disease can develop after even a brief exposure to asbestos.
According to a report by Charleston newspaper The Post and Courier, rates of asbestos-related deaths in Charleston outpace that of the state of South Carolina and national averages. This is largely in part because of the asbestos exposure at the Charleston Naval Shipyard prior to its closing more than 20 years ago. During his remarks, Mayor Tecklenburg reflected on mesothelioma's impact on his own family, as his brother-in-law tragically succumbed to the disease after working at the Shipyard.
Despite known dangers associated with asbestos, an outright ban is not in place in the U.S. and the toxic mineral continues to be incorporated into products and imported. As a result, countless lives remain at risk. The extensive list of victims includes:
Shipyard workers, including Charleston's Naval Yard
Power and chemical plant workers
Construction and other industries where asbestos was used, such as pipe fitting and insulation
Teachers who are exposed in asbestos-contaminated schools
The courageous firefighters, police officers, and rescue workers who inhaled toxic and polluted air from Ground Zero on 9/11/01
Watch the proclamation reading here: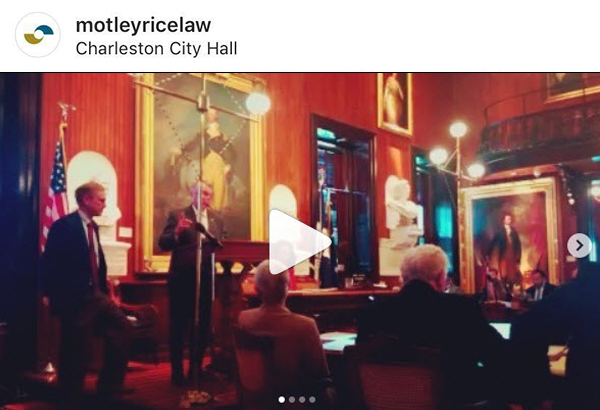 Learn more about previous Mesothelioma Awareness Day proclamations: