Louis Bograd, James Brauchle, Previn Warren named to Law360 2023 Editorial Advisory Boards
Legal publication Law360 selected three Motley Rice attorneys to sit on its Editorial Advisory Boards for the 2023 term. Louis Bograd will advise on Law360's appellate coverage while James Brauchle and Previn Warren will advise on transportation and consumer protection, respectively. Law360 editorial advisory boards meet annually to discuss and offer feedback on how the publication can improve its coverage of dozens of practice areas. The boards also serve to provide reporters with a pool of potential sources for news articles.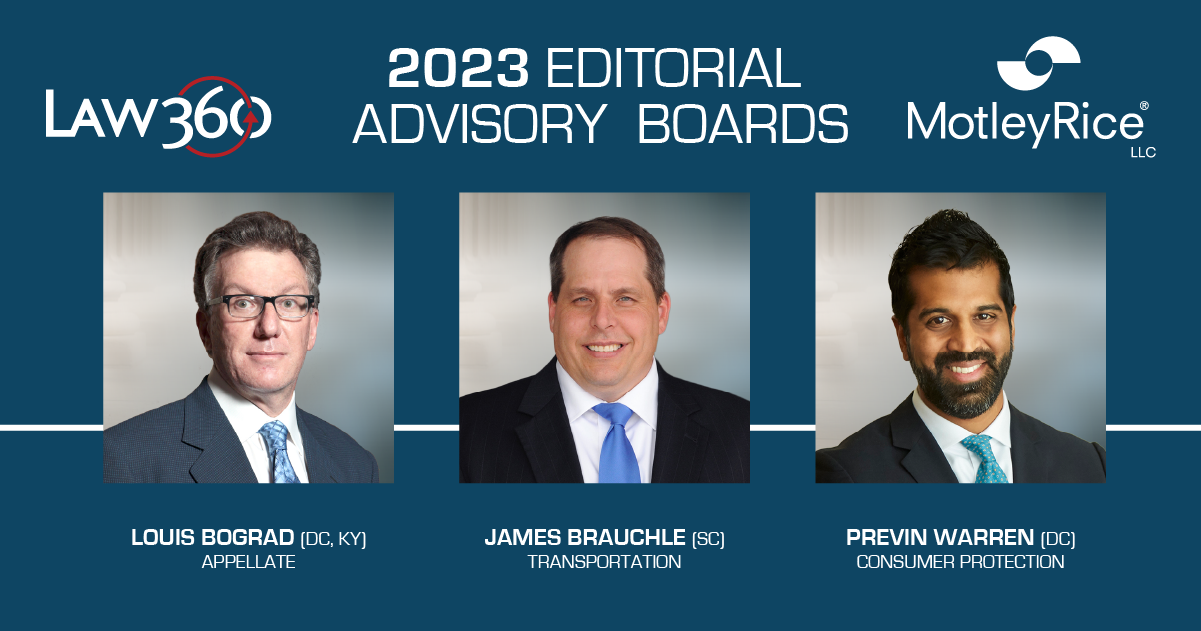 Louis Bograd, Appellate Advisory Board
A veteran appellate attorney, Louis Bograd is a nationally-recognized authority on issues of federal preemption, drug and device litigation, and jurisdiction. He is co-chair of the Law & Briefing Committee for the National Prescription Opiate MDL, combatting the alleged deceptive marketing and over-distribution of opioid drugs.
"I am excited to serve on Law360's Appellate Advisory Board. I welcome the opportunity to share my more than 35 years of appellate advocacy experience, and my perspective as a lifelong advocate for injured people, to help maintain and improve Law360's coverage of our appellate courts," Louis Bograd said. 
James Brauchle, Transportation Advisory Board
A former U.S. Air Force navigator, Jim Brauchle brings years of flying experience and knowledge of the aviation industry to his practice. Jim represents victims of plane, helicopter and train disasters, including victims killed in disasters involving Boeing's 737 MAX 8, as well as 9/11 families in aviation security litigation.
"I hope to make an impact on the Law360 Transportation Editorial Advisory Board this year. Transportation issues are already dominating legal news this year in light of the train derailment in East Palestine, Ohio, and of the FAA reauthorization bill, which will be before Congress later this year," Jim Brauchle said. 
Previn Warren, Consumer Protection Advisory Board 
Previn Warren is at the forefront of litigation seeking to protect consumers from harmful conduct by tech and media companies. Previn co-leads a new MDL in the Northern District of California alleging that social media products like Instagram and TikTok are addictive to children and cause serious mental and physical harms. He also advocates for the political representation of Asian Americans and Pacific Islanders as a member of AAPI Victory Alliance's Board. View the entire advisory board.
"I'm looking forward to helping Law360 keep attorneys informed of cutting-edge issues related to tech accountability. In the coming months we can expect to see a host of problems for consumers resulting from the premature implementation of AI throughout our economy. Consumer protection needs to move at the pace of Big Tech," Previn Warren said.
About Law360 Editorial Advisory Boards
Attorneys must subscribe to and read Law360 to be eligible to serve on Law360's Editorial Advisory Boards. Each board member participates in a yearly conference call to offer feedback on the publication's coverage of their practice area and make suggestions for improvement on article topics, newsletters and other initiatives. Read more.