Serena Hallowell, Michelle Clerkin named to Law360 Editorial Advisory Boards
Legal publication Law360 selected two Motley Rice attorneys to sit on its Editorial Advisory Boards for the 2022 term. Veteran litigator Serena Hallowell is one of 11 attorneys who will advise on Law360's coverage of securities fraud litigation, and antitrust attorney Michelle Clerkin is one of 14 attorneys who will advise on competition.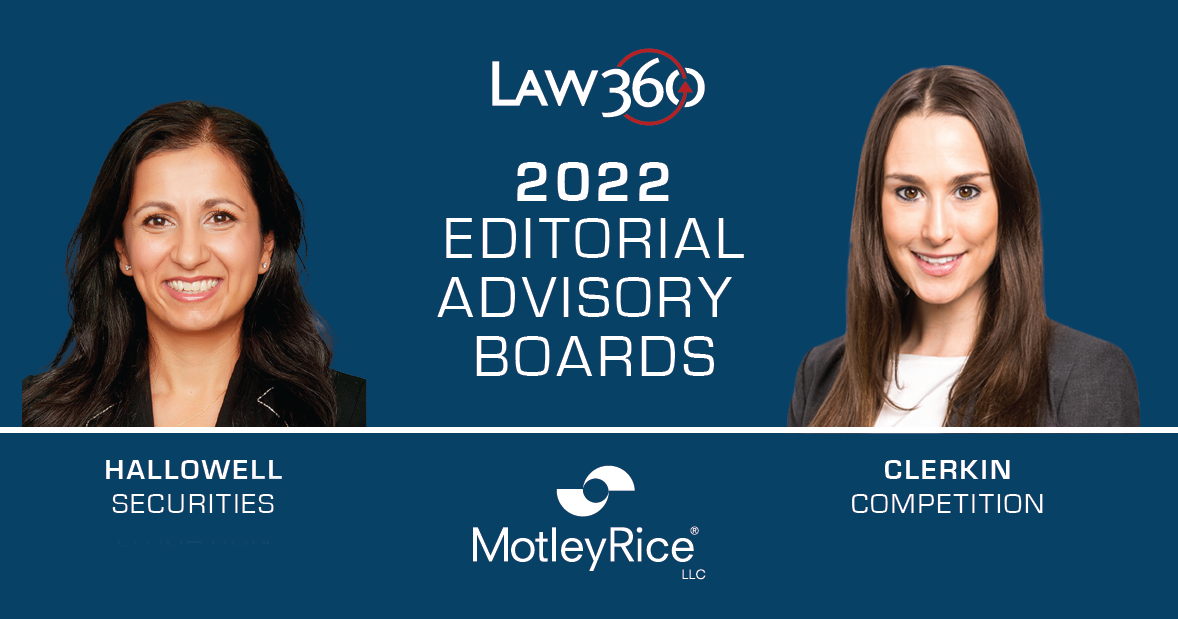 Law360 editorial advisory boards convene for an annual meeting to discuss and offer feedback on how the publication can improve its coverage of dozens of practice areas, according to Law360. The boards also serve to provide reporters with a pool of potential sources for news articles. Motley Rice attorneys Donald Migliori and Esther Berezofsky previously served on the product liability and environmental boards for the 2021 term.
Serena Hallowell, Securities Editorial Advisory Board
Serena Hallowell has nearly 20 years of complex litigation and securities experience, including representing some of the world's largest institutional investors. National Law Journal represented her as a Plaintiffs' Lawyer "Trailblazer" in 2019 for her work in securities opt-out litigation. Additionally, Law360 named her as a "Securities MVP" in 2019, and the 2021 Chambers USA report recognized her in the area of New York securities litigation for plaintiffs.
"I welcome the opportunity to collaborate with securities attorneys from both sides of the aisle under the shared goal of improving public understanding of this complex practice area," said Motley Rice attorney Serena Hallowell. 
Michelle Clerkin, Competition Editorial Advisory Board
Michelle Clerkin has extensive experience representing consumers, businesses and other entities in complex antitrust litigation across a wide array of industries, including the pharmaceutical, financial and consumer product sectors. She serves on plaintiffs' steering committees in antitrust class actions, including the In re Juul Labs Inc. Antitrust Litigation in the Northern District of California, and In re Chicago Board Options Exchange Volatility Index Manipulation Antitrust Litigation pending in the Northern District of Illinois.
"I am truly excited to provide helpful guidance and insight to the Law360 team," said Motley Rice attorney Michelle Clerkin. "With the backing of my experience I'm happy to serve as a trusted resource and I'm honored to represent Motley Rice on the board."
About Law360 Editorial Advisory Boards
Attorneys must currently subscribe to and read Law360 in order to be eligible to serve on Law360's Editorial Advisory Boards. Each board participates in a yearly conference call to offer feedback on the publication's coverage of their practice area and suggestions for improvement on article topics, newsletters and other initiatives. Read more.