Hofstra School of Law counts whistleblower attorney Rebecca Katz among 2019 Outstanding Women in Law
Motley Rice is pleased to announce that veteran SEC whistleblower attorney Rebecca Katz, a Hofstra University School of Law alumna, was honored by the school as one of 2019's Outstanding Women in Law.   
Hofstra Law selected 35 women for this year's award, which celebrates women who have made meaningful and inspiring contributions to the legal community. An award ceremony and reception was held April 22 in Uniondale, N.Y., during which Judge Judy Sheindlin was recognized as a Lifetime Achievement Honoree and Guest.
Rebecca is a lead attorney on Motley Rice's whistleblower litigation team, and has worked for more than 20 years to represent and protect individual whistleblowers who expose corporate misconduct. She served as senior counsel for the SEC's Enforcement Division for nearly a decade and has been at the forefront of this field since the SEC Whistleblower Program was established under the Dodd-Frank Act in 2010. In addition to her whistleblower work, Rebecca has years of experience litigating complex securities fraud cases, and was a partner and held senior leadership roles at two large New York plaintiffs' litigation firms.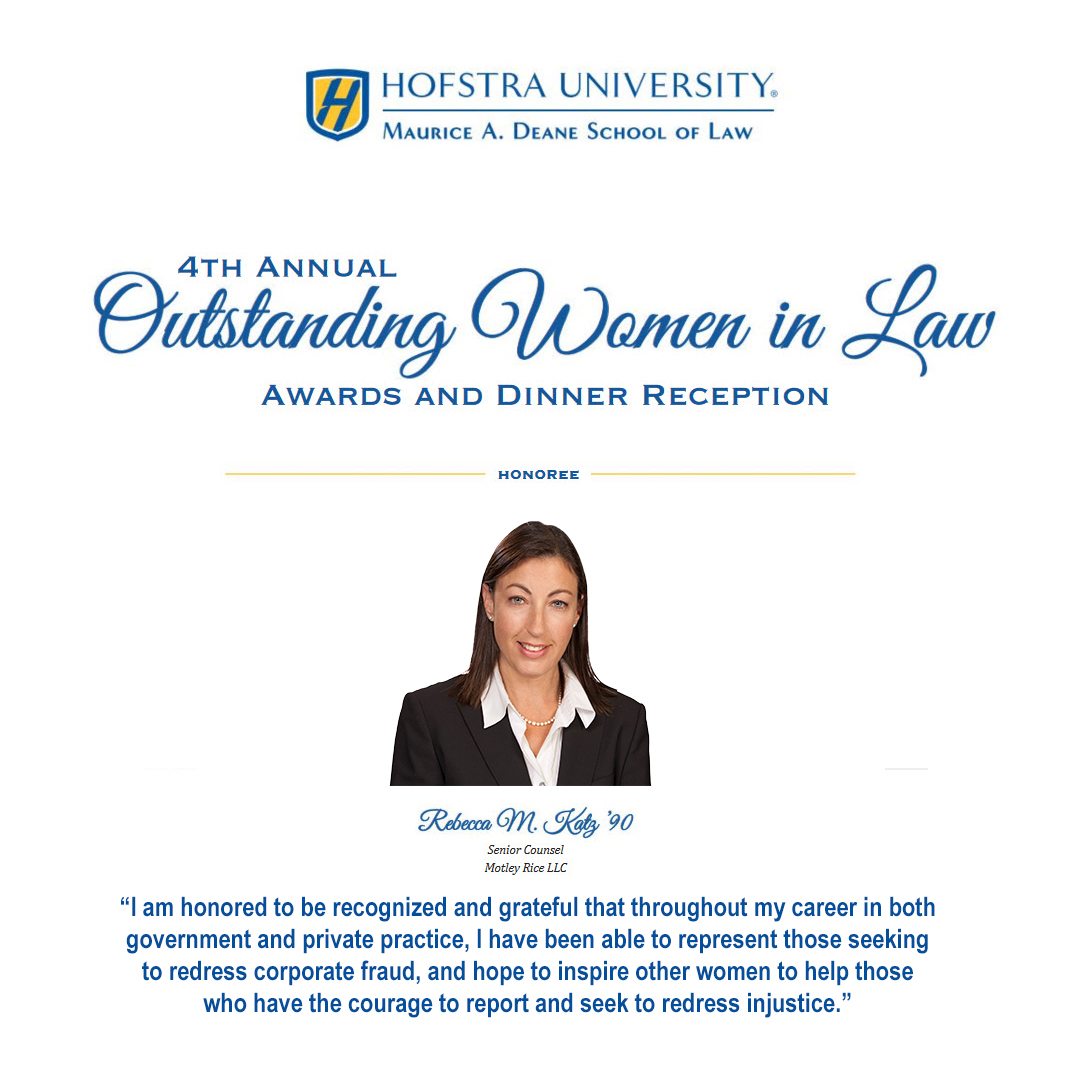 Rebecca is a published author, a former faculty member at the Practising Law Institute's Securities Litigation & Enforcement Institute, and has also lectured at the Fordham University School of Law's Eugene P. and Delia S. Murphy Conference on Corporate Law – Corporations, Investors and the Securities Markets. She is a graduate of Hofstra University as well as Hofstra University School of Law.