Images of smiling women and bare-bottomed babies have graced ads for talcum powder for close to a century. However, a growing number of studies have found that using powder containing talc, such as baby powder in the genital area may increase a woman's risk of developing ovarian cancer.
Talcum powder has been promoted for decades by companies claiming that it helps eliminate friction, is gentle on the skin and provides a clean, pleasant scent. The powder is commonly used by mothers to reduce babies' diaper rashes and by women in general as a personal hygiene product.
Motley Rice attorney Daniel Lapinski and Carmen Scott are both members of the Plaintiffs' Steering Committee for multidistrict litigation filed by thousands of women who allege Johnson & Johnson Baby Powder and other talc-based products caused their cancer. Dan also serves as co-chair of the Law & Briefing Committee, and Carmen is co-chair of the Bellwether Selection Committee.
J&J CEASES PRODUCTION OF TALC-BASED BABY POWDER
May 19, 2020
Johnson & Johnson announced it will end production of its talc-based baby powder products in the U.S. and Canada amid thousands of lawsuits alleging the product contains asbestos and caused cancer. Retailers will continue to sell the products until supplies run out. Read more.
If you or someone you know has used talcum powder around the perineum, or genital area, and has been diagnosed with ovarian cancer, you may have a talcum powder claim. Please contact medical attorney Carmen Scott by email or call 1.800.768.4026 to learn more about talcum powder lawsuits.

If you believe that you may have a claim, consider contacting an attorney as soon as possible.  A statute of limitations (SOL) may limit the time you have to file a claim. If you do not file your claim within the SOL, you may lose it forever.
Female Talcum Powder Uses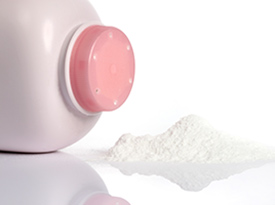 Talcum powder is typically marketed as "talc powder," "baby powder" or "body powder" and contains the mineral talc. Johnson & Johnson sold the powder brand Shower to Shower in 2012 to Valeant. Although it is often used by women as part of their daily hygiene regimen, the use of talcum powder on the genitals and perineal area, either through direct application or by applying it to sanitary napkins, has been associated with an increased risk of ovarian cancer.
Studies have found that the powder may travel into the genital tract, causing inflammation. Frequent, long-term use of talc powder in these areas allegedly doubles or triples the risk of developing ovarian cancer.
Watch attorney Carmen Scott discuss the latest developments since Johnson & Johnson discontinued talc-based baby powder products in the U.S. and Canada: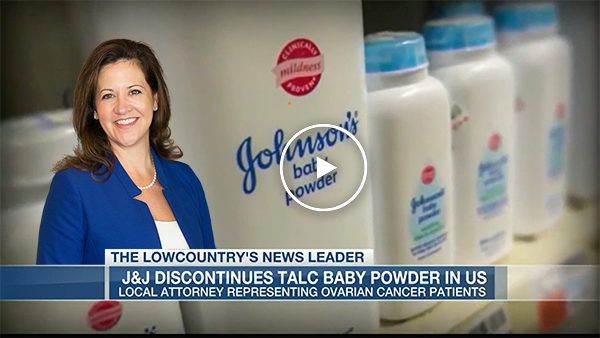 Talcum Powder and Ovarian Cancer Links
The American Cancer Society reports that the risk of ovarian cancer may be increased with perineal talcum powder use and that research continues to determine the magnitude of the increased risk.  Additionally, the International Agency for Research on Cancer (IARC), part of the World Health Organization, classifies the perineal use of talc-based body powder as "possibly carcinogenic to humans."
On April 27, 2019, U.S. District Judge Freda Wolfson of New Jersey ruled that thousands of women who allege Johnson & Johnson's baby powder and other talc-based products caused their ovarian cancer can move forward with their claims against the company. More than 16,000 claims comprise the national multidistrict litigation.
Judge Wolfson heard expert testimony from both the plaintiffs and defense in 2019. During the hearings, J&J asked the Court to bar all plaintiffs' experts from testifying at trial, a move that would effectively end the litigation. After reviewing testimony from both sides, Judge Wolfson ruled that plaintiffs' experts can testify at trial regarding studies that show talc-based products can cause cancer, potentially due to asbestos, fibrous talc or heavy metal contamination.
In November 2019, current Shower to Shower manufacturer, Bausch Health Cos. Inc., disclosed for the first time that it replaced talc with corn starch  in its powder in 2018. Bausch bought Shower to Shower from Johnson & Johnson in 2012 and distributed the last lot of the talc-based Shower to Shower in in February 2019. Bausch's announcement came within weeks of Johnson & Johnson's voluntary recall of a single lot of its baby powder after a sample tested positive for asbestos. Multiple major retailers, including Walmart, CVS, Rite Aid and Target removed all 22-ounce bottles of J&J's Baby Powder from store shelves following news of the potential contamination. J&J stated that it is cooperating with the FDA, which conducted the asbestos test, to further investigate the matter. 
In December 2018, an investigation by Thomson Reuters revealed thousands of pages in company memos and other previously confidential documents that showed J&J allegedly knew for decades that its talcum powder may contain asbestos. The company, however, failed to inform the public or regulators of the issue. To this day, J&J continues to maintain that its products are safe for use. Read more on the link between talc and asbestos-related diseases.
In 2016, a researcher with the University of Virginia released a study that  found regular use of talc powder by African-American women placed them at greater risk for developing ovarian cancer. Read more.
In 2015, Epidemiology published "The association between talc use and ovarian cancer." The study examined 2,041 cases with epithelial ovarian cancer and 2,100 controls, which found risk increased if talc was applied frequently and over an extended period of time.
In 2013, Cancer Prevention Research published "Genital powder use and risk of ovarian cancer: a pooled analysis of 8,525 cases and 9,859 controls," which found that "genital powder use was associated with a modest increased risk of epithelial ovarian cancer relative to women who never used powder."
A 2010 study conducted by Harvard epidemiologist Dr. Margaret Gates and others found a positive association among postmenopausal women where "ever use of talcum powder was associated with a 21% increase in risk of endometrial cancer, while regular use was associated with a 24% increase in risk."
In 2003, an analysis of 16 observational studies on the association between perineal talcum powder use and ovarian cancer found "a statistically significant result suggesting a 33% increased risk of ovarian cancer with perineal talc use."
Read More
The New York Times (May 19, 2020) Johnson & Johnson to End Talc-Based Baby Powder Sales in North America
Reuters (April, 27,2020) U.S. judge rules talc lawsuits against J&J can proceed, testimony limited
Bloomberg (Nov. 6, 2019) Bausch Yanked Talc From Its Body Powder Months Before J&J Recall
Reuters (Oct. 30, 2019) Exclusive: J&J's own expert, working for FDA, found asbestos in Baby Powder
The New York Times (Oct. 18, 2019) Johnson & Johnson Recalls Asbestos-Tainted Baby Powder
Reuters (Dec. 18, 2018): Johnson & Johnson knew for decades that asbestos lurked in its Baby Powder
Reuters (May 30, 2014): Johnson & Johnson hides baby powder's link to cancer, suit says 
UK Daily Mail (June 18, 2013): Women who regularly use talcum powder increase their risk of ovarian cancer by 24%
---
Do not stop taking a prescribed medication without first consulting with your doctor. Discontinuing a prescribed medication without your doctor's advice can result in injury or death.
Motley Rice LLC, a South Carolina Limited Liability Company, is engaged in the New Jersey practice of law through Motley Rice New Jersey LLC. Esther Berezofsky attorney responsible for New Jersey practice.