For many, talc, one of the softest known minerals on earth, is a household staple appearing in baby and body powder, makeup, toothpaste, shampoos and numerous other products that people use daily. In its raw form, however, talcum powder — comprised of magnesium, silicon and oxygen — may contain traces of toxic asbestos, a known carcinogen, because the minerals are often found close to each other in the earth and asbestos may contaminate the talc during mining. If not carefully screened before hitting shelves, asbestos fibers may contaminate talc-based products, posing a potential deadly threat to you and your family.
Study finds asbestos in nearly 15% of talc-based cosmetics
Nov. 25, 2020
The Environmental Working Group, EWG, announced that a study it commissioned on talc-based cosmetics found asbestos in nearly 15 percent of samples tested, including in toy makeup kits and eyeshadow, suggesting "the methods used by the cosmetics industry to screen talc supplies are inadequate." There is no safe level of exposure to asbestos, a naturally occurring mineral known to cause mesothelioma and other diseases in humans. Read more about the study.
Motley Rice attorneys have fought for decades to protect and achieve justice for asbestos victims, including representing people allegedly harmed by asbestos contamination in talc-based products. If you or a loved one were harmed, you may have a claim.
Contact an asbestos exposure attorney

If you or a loved one developed mesothelioma or another asbestos-related disease after using a talc-based product, such as baby powder, you may contact Nathan Finch and Christopher Swett using this online form or call 1.800.768.4026 for more information and to discuss your potential claim.
"Hours after J&J disclosed the FDA's asbestos finding on Oct. 18, a plaintiff's lawyer, Nate Finch, asked an Indianapolis judge to let him tell the jury about it in a trial involving a 71-year-old woman who alleged that Baby Powder contributed to her cancer. J&J's lawyers opposed the request, arguing that the information could prejudice the jury against the company, but the judge granted Finch's request. Days later, Finch told the judge his client had come to a confidential resolution with J&J, a trial transcript shows."
Read more from a Reuters' investigation article that discusses a Motley Rice case, Exclusive: J&J's own expert, working for FDA, found asbestos in Baby Powder.
Numerous peer-reviewed medical studies have shown that inhaling talc contaminated with asbestos causes mesothelioma, an invariably fatal cancer of the lining around the lungs, peritoneum or pericardium. The International Agency for Research on Cancer has classified asbestos, and talc contaminated with asbestos, as an established human carcinogen for decades.
If inhaled, talc contaminated with asbestos can cause a number of life altering, and potentially deadly, cancers and lung diseases. Common diseases associated with asbestos exposure include: 
Mesothelioma: A form of cancer that can take decades to develop after the initial exposure, affecting the mesothelial cells lining the lung, chest cavity, abdominal cavity or heart cavity.
Asbestosis: The chronic inflammation and subsequent scarring of the lung, causing shortness of breath.
Lung cancer: The abnormal cell growth of lung tissues. For every case of mesothelioma, there are at least twice as many cases of asbestos-related lung cancer.
Other related cancers: Cancers of the larynx, pancreas, esophagus, colon, kidney, omentum (the fatty tissue layer covering the lower abdomen) and tunica vaginalis (inner lining of the testicular sac) have also been linked to asbestos exposure.
Watch attorney Carmen Scott discuss the latest developments since Johnson & Johnson discontinued talc-based baby powder products in the U.S. and Canada: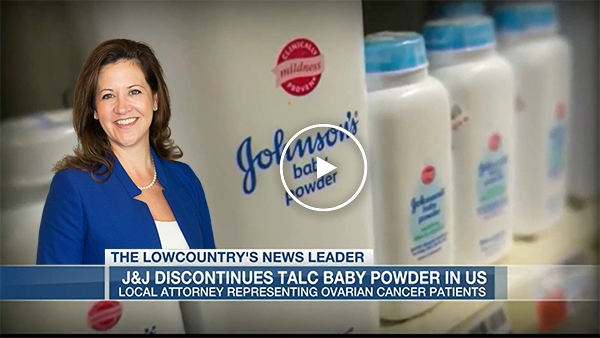 Is talc regulated?
Federal laws in the U.S. have required since 1973 that "cosmetic-grade" talc be asbestos free in order to be used in commercial products that are marketed to the public. While the U.S. Food and Drug Administration has completed exploratory surveys to test for asbestos contamination involving a number of suppliers and product brands, few regulations or enforcement policies are in place to ensure that talc-based products aren't contaminated and are safe for use. Concerns about talc's safety have prompted bans for cosmetic use in the European Union, as well as restricted use in baby products in Canada. The U.S. Centers for Disease Control, however, claims there is no significant physical or chemical danger related to talc, other than possible effects to the lungs if inhaled, and redness and pain caused by accidental contact to the eyes.
An investigation by Thomson Reuters in December 2018 revealed thousands of pages in previously confidential memos and other documents that showed J&J knew for decades that its powder may contain asbestos. The company, however, failed to alert the public or regulators. J&J continues to maintain that its products are safe for use.
In November 2019, Shower to Shower manufacturer, Bausch Health Cos. Inc., disclosed that it replaced talc with corn starch as the active ingredient in its powder in 2018. Bausch acquired Shower to Shower from Johnson & Johnson in 2012. The last lot of the talc-based product was distributed in February 2019, Bausch said. This was the first time Bausch publically announced the ingredient change.
The announcement came weeks after Johnson & Johnson voluntarily recalled a single lot of its baby powder after the FDA said a sample tested positive for asbestos. Multiple major retailers, including Walmart, CVS, Rite Aid and Target removed all 22-ounce bottles of J&J's Baby Powder from store shelves following news of the potential contamination. J&J stated that it would cooperate with the FDA to further investigate the matter. Read more.
Johnson & Johnson talc litigation
We also represent women in litigation against Johnson & Johnson who claim the company's baby and body powders caused them to develop ovarian cancer after using the powder for feminine hygiene. Motley Rice attorneys Daniel Lapinski and Carmen Scott are both members of the Plaintiffs' Steering Committee for the multidistrict litigation. Dan also serves as co-chair of the Law & Briefing Committee, and Carmen also co-chairs of the Bellwether Selection Committee. Read more on talc's link to ovarian cancer.
Related News
The New York Times (May 19, 2020) Johnson & Johnson to End Talc-Based Baby Powder Sales in North America
Bloomberg (Nov. 6, 2019) Bausch Yanked Talc From Its Body Powder Months Before J&J Recall
Reuters (Oct. 30, 2019) Exclusive: J&J's own expert, working for FDA, found asbestos in Baby Powder
The New York Times (Oct. 18, 2019) Johnson & Johnson Recalls Asbestos-Tainted Baby Powder
Reuters (Dec. 14, 2018) Johnson & Johnson knew for decades that asbestos lurked in its Baby Powder
CNN (May 24, 2018) Johnson & Johnson hit with $25.75 million verdict in talc-asbestos case
Reuters (May 14, 2018) J&J defends itself in trial over baby powder asbestos claims
Courtroom View Network (May 11, 2018) Talc Powder Mesothelioma Lawsuit Involving J&J, Rite Aid Heads to Trial in South Carolina
Reuters (April 16, 2018) J&J Baby Powder litigation takes new focus with asbestos claims
Reuters (April 11, 2018) J&J, Imerys unit must pay $117 million in N.J. asbestos cancer case
---
Motley Rice LLC, a South Carolina Limited Liability Company, is engaged in the New Jersey practice of law through Motley Rice New Jersey LLC. Esther Berezofsky is the attorney responsible for New Jersey practice.