Joey's Wish Granted: 8-year-old boy's wish granted on World Wish Day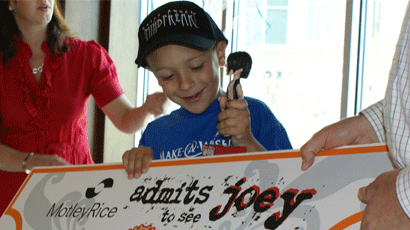 On World Wish Day, April 29, 2011, Motley Rice and the Make-A-Wish Foundation of South Carolina had the pleasure of granting the wish of Joey "Peanut" Benton, a vivacious 8-year-old Summerville resident who lives with cystic fibrosis. Joey is now heading to Las Vegas to meet magician Criss Angel and see one of his shows.
An advocate for health care reform, Joey's voice is as big as he is small. He is regularly featured in fundraising campaigns for the Medical University of South Carolina (MUSC) Children's Hospital and has even traveled to D.C. to speak about cystic fibrosis and promote awareness about pediatric health care needs.
To learn more about Joey, follow him on Twitter @peanutpatrol or on Facebook at http://www.facebook.com/peanutpatrol.
Read a full article on Joey's wish in a feature story by The Post and Courier.