Kids Helping Kids: MUSC Holiday Card Project kicks off
For more than 15 years, the MUSC Children's Hospital Fund has joined with patients and local children, as well as local companies and individuals, to raise money. The "Kids Helping Kids" Holiday Card Project invites young artists to design holiday-themed artwork to become holiday greeting cards.  In 2010, the project raised approximately $50,000 for the hospital's research and programs. In the last 15 years, it has raised more than $800,000.
At the kick-off celebration on October 26, 2011, 15 young artists and the local organizations underwriting the printing of their cards proudly showed their designs. The project honored one young artist and MUSC patient who was not in attendance. Harper Drolet passed away three weeks before her artwork was unveiled to the public. See photos of the kick-off here.
The cards are now on sale and available at Charleston area banks, businesses and service organizations.  Variety packs hold 15 cards and sell for $15.00. Bulk orders can also be placed for individual cards. One hundred percent of the proceeds go to the Children's Hospital.
Check out the artwork below that was created for the Motley Rice-sponsored holiday card by 14-year-old Ayla El-Mereebi, the daughter of a MUSC Children's Hospital nurse coordinator.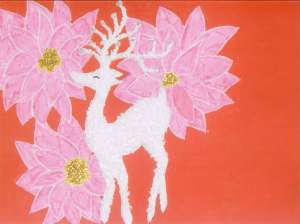 View all cards selected for the MUSC Children's Hospital Holiday Card Project, and purchase holiday cards to help benefit a worthy cause. You can also visit our photo album on Facebook.
Read more about the MUSC Children's Hospital.