Motley Rice announces new associate attorney hires
Motley Rice LLC is pleased to announce the addition of three associate attorneys to its headquarter office in Mt. Pleasant, S.C., bringing talent to the firm's securities, product liability, and medical litigation practice areas. New associates Jessica Carroll, Ridge Mazingo and Nicholas Williams were admitted to the South Carolina Bar on November 14, 2022. 
"We could tell the strength of their character from the moment we began the interview process, and  are delighted to have Jessica, Ridge and Nicholas onboard," said Motley Rice Member and Hiring Committee Chair, Fred Baker. "I am confident they will achieve great things for our clients and our firm and do incredible work in our community."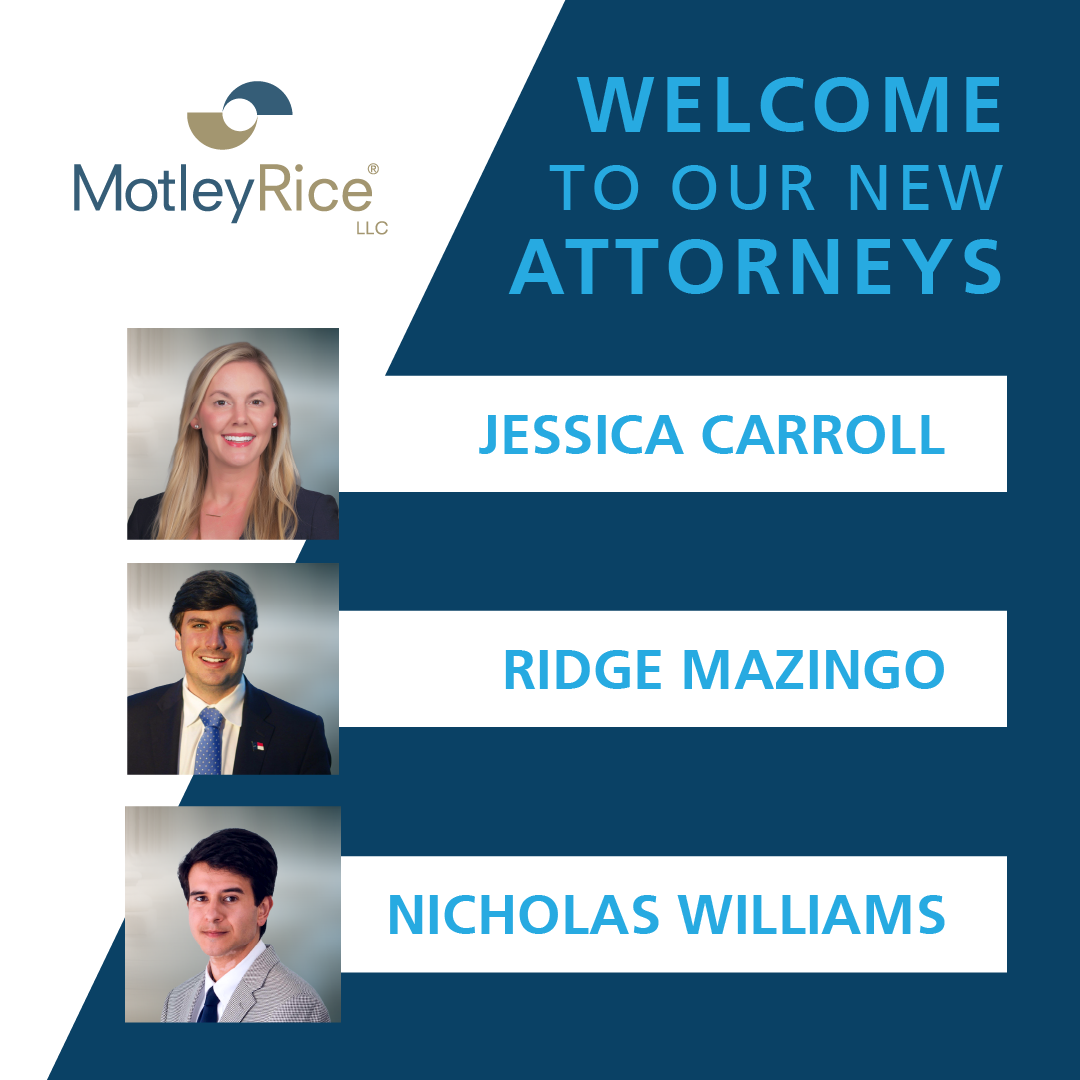 Carroll represents dozens of governmental entities in litigation against pharmaceutical drug manufacturers and distributors for their alleged contribution to the opioid crisis. She also contributes to multidistrict litigation against social media platforms. She first joined Motley Rice in December 2019 as a law clerk while completing her law degree and served as symposium editor for the Charleston Law Review where she worked with Furman's Riley Institute to organize one of the law school's most successful legal symposia, benefiting services that support survivors of child sexual abuse and human trafficking. Carroll graduated from Charleston School of Law in May 2022. She is passionate about public interest work and has volunteered more than 250 pro bono hours completing expungements for clients of the Charleston and Berkeley County Public Defender's offices throughout law school.
Mazingo protects the rights of individual shareholders and institutional investors by litigating complex securities actions. Prior to law school, he worked as a Legislative Aide in the North Carolina House of Representatives and worked with a state legislature-focused lobbying and consulting firm. Mazingo worked for Motley Rice as a summer law clerk in June 2021 and graduated from the University of North Carolina School of Law in May 2022. Active in his community, he volunteers with the Coastal Conservation League and the South Carolina Special Olympics.

Williams represents childhood lead poisoning victims exposed to white lead carbonate products. Additionally, he represents farmers, railroad workers, and other victims in pesticide litigation. He first worked for Motley Rice as a law clerk in June 2021 and gained additional experience throughout law school while working as a legal extern with Hometown Strong North Carolina, where he assisted the Governor's Office on rural economic development initiatives, rural COVID-19 outreach efforts, and broadband policy implementation. Williams graduated from the University of North Carolina School of Law in May 2022.
About Motley Rice
Motley Rice LLC is one of the nation's largest plaintiffs' litigation firms. With a tradition of representing those whose rights have been violated, Motley Rice attorneys gained recognition for their pioneering asbestos lawsuits, their work with the State Attorneys General in the landmark litigation against Big Tobacco, and their representation of 9/11 families in the ongoing lawsuit against terrorist financiers. 
The firm handles complex litigation in numerous areas, including securities fraud; antitrust; consumer protection; mesothelioma; environmental contamination; prescription and over-the-counter drugs; medical devices; human rights; aviation disasters; and wrongful death. Motley Rice is headquartered in Mt. Pleasant, S.C., and has additional offices in Connecticut; Washington, D.C.; New Jersey; New York; Pennsylvania; Rhode Island; and West Virginia. For more information, contact Motley Rice attorney Frederick C. Baker (NY, SC) at 1.800.768.4026 or visit www.motleyrice.com. Motley Rice LLC, a South Carolina Limited Liability Company, is engaged in the New Jersey practice of law through Motley Rice New Jersey LLC. Esther Berezofsky is the attorney responsible for New Jersey practice. 
Connect with us on Facebook, LinkedIn, Instagram and Twitter.