Project GO! Success: Day one for new outreach event a victory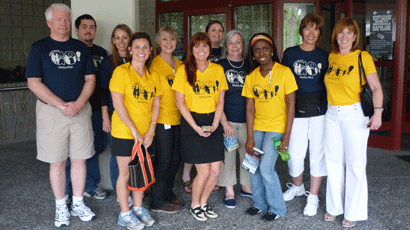 A busload of blue and yellow employees left Motley Rice yesterday morning ready for day one of Project Go! Teams were taken to the Ralph H. Johnson VA Medical Center, the J. Mitchell Elementary School, Elliotborough Park and Community Garden, and East Cooper Community Outreach.
Each organization had a variety of tasks planned for the teams, ranging from planting flowers and painting fences to sorting donations and assisting veterans. Each team successfully completed the organizations' assignments and enjoyed the satisfaction of starting a project and seeing it through to the end, helping these local groups with extensive projects in need of nothing more than sheer manpower and resources.
The Project GO! teams returned to home base late in the afternoon covered in dirt, paint and sweat-- and smiling faces. Motley Rice is proud to have had such a fantastic turnout and thanks all those who participated.
Thursday, May 2, 2011, is day two of Project GO!, and we look forward to continuing the momentum surrounding this event.