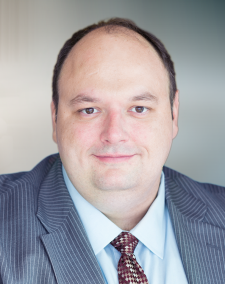 Asbestos a hidden danger left behind in hurricanes' wake | Causes, Not Just Cases®
Every year on September 26, Mesothelioma Awareness Day, we pause to recognize courageous men and women around the world who are battling cancers and other debilitating diseases caused by asbestos exposure. Now, as we endure what's already been and may continue to be a particularly active and devastating hurricane season, it seems appropriate to remind the public of the hidden danger asbestos may pose to those tasked with clearing away debris left behind by the storms.
Hurricanes Harvey and Irma are said to have caused billions of dollars in property damage in a matter of weeks. My thoughts remain with those who were in the path and are tasked with putting their lives back together, as well as the families of those who lost their lives.
With that damage came the destruction of older buildings and homes, some of which may have contained asbestos. I typically find that people are surprised to learn that asbestos, a known carcinogen, is still present in many homes and buildings.
Asbestos can be found in numerous building materials including:
asbestos-cement pipe,
attic insulation
cement flat sheet,
ceiling tiles,
corrugated sheet,
fireproofing,
floor tile,
insulation,
joint compound,
millboard,
pipeline wrap,
roofing felt,
siding
shingles and transite boards.
Homes built prior to 1980 frequently utilized asbestos containing products. Even after 1980, many products were still manufactured to contain asbestos. The use of asbestos is still not fully banned in the U.S.
When asbestos-containing materials are damaged or disturbed, such as in a natural disaster, microscopic, airborne asbestos fibers and other toxic materials can be released into the air, putting cleanup crews, volunteers, families and others at risk of exposure.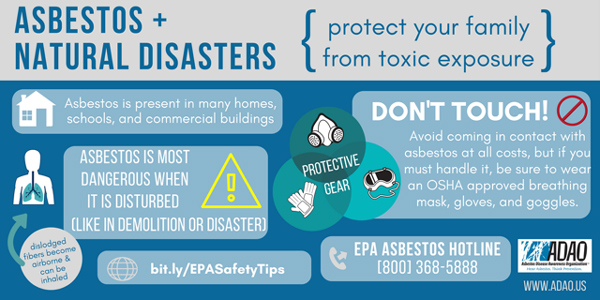 *Image used with permission from the Asbestos Disease Awareness Organization.
Mesothelioma can result from brief exposures to asbestos. Years after this exposure certain individuals will sadly develop this devastating disease.
If you suspect that your home or another building you are inspecting may contain asbestos, it is imperative you get the assistance of qualified abatement professionals. 
For more information on how to safely recover from natural disasters, visit the U.S. Environmental Protection Agency online. The EPA's "Protect Your Family," "Dealing with Debris and Damaged Buildings," and OSHA Fact Sheet, "Protecting Workers from Asbestos Hazards," are also resources.
My thoughts, well-wishes and prayers are with all who have been affected so far this hurricane season. I join millions throughout the country in thanking our courageous first responders, healthcare workers and volunteers for all they have done and continue to do. There is a sense of comradery that often unites us in times of adversity.
So, too, must all people impacted by the devastating effects of asbestos unite to continue to make their voices heard. It is my hope that through such unity, we, as a nation, will finally ban asbestos one day soon for the wellbeing of us all. 
Visit the Asbestos Disease Awareness Organization's website for more on how you can get involved this Mesothelioma Awareness Day.
The National Council For Occupational Safety And Health is also taking action to protect workers during cleanup efforts in Houston. View their factsheets for safe cleanup after a storm and see how you can help.
---
Subscribe to our blog if you'd like to have more content like this sent directly to your inbox.