Asbestos Awareness Week: Events focus on teaching about disease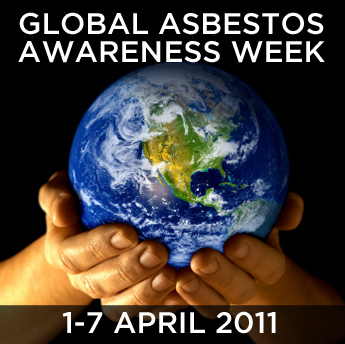 Today kicks off Global Asbestos Awareness Week. The Asbestos Disease Awareness Organization (ADAO) is hosting a conference starting this weekend and several online programs as part of their week-long support of asbestos disease-related education, prevention and advocacy. To support their efforts, Motley Rice attorneys and staff will be focusing on education and advocacy as well. In addition, we will help them honor the individuals around the world who have been impacted by an asbestos-related disease by keeping a candle lit in their honor for the duration of the week.
View the Asbestos Kills slideshow created by the ADAO to the music of Warran Zevon, who passed away from mesothelioma.
The annual conference, which kicks off tomorrow, is an important opportunity to consolidate awareness efforts on behalf of those impacted by asbestos-related diseases. Contributing to this awareness campaign, The U.S. Senate passed a resolution in February 2011, declaring the first week of April "National Asbestos Awareness Week." Conference organizers have widely praised delegates for their support and continued efforts to highlight the importance of continued awareness as a tool to bring about positive change.
The ADAO is sponsoring two online programs for those who have been impacted by an asbestos-related disease. The Share Your Story archive invites victims of asbestos-related diseases or their family members to share their stories and have their struggle immortalized in a repository of tales. The virtual Light a Candle event, allowing supporters the opportunity to light a virtual candle that will ?glow' for 48 hours in honor of their loved one.
Around the world, nearly 125 million people have been exposed to asbestos in the workplace, and more than 100,000 people will die each year as a result of asbestos-related lung cancer, mesothelioma and asbestosis.
Check out this video from the documentary Dust to Dust, which tells the story of more than 200 residents around Libby, Mont. who died from asbestos-related diseases as a result of exposure to asbestos-laden dust. The dust came from a former vermiculite mine operated by W.R. Grace Company.
There are nearly 3,000 people diagnosed with mesothelioma each year in the United States and Canada alone. We hope you will join us in educating people about mesothelioma and other asbestos-related diseases, which are still relevant today.
Learn more about how Motley Rice asbestos lawyers represent asbestos victims and fight for compensation and accountability from companies that manufactured, distributed or supplied asbestos-containing products.