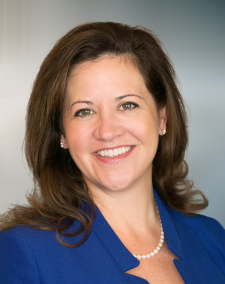 Dirty Dancing: It's time to put J&J's Baby Powder in the corner!
Johnson & Johnson recently announced it will stop selling talcum-based baby powered in the U.S. and Canada. The decision to stop selling the product came within a few short months of an FDA test that found asbestos in a single lot of J&J baby powder, despite the company's continued statements that its baby powder is safe. The company has also been ordered to pay billions of dollars in verdicts to women and their families who say asbestos-contaminated baby powder caused them to develop ovarian cancer or mesothelioma.
Shortly after the company announced that it will stop selling talc products in North America, the Eastern District Missouri Court of Appeals censured J&J, issuing a $2.1 billion verdict (Motley Rice does not represent the plaintiffs in this case) for endangering the public by selling products that caused cancer. "We find there was significant reprehensibility in defendants' conduct," the Court stated. "The harm suffered by plaintiffs was physical, not just economic." The Court agreed with plaintiffs that the monetary award was needed in order to deter other companies from similarly endangering the public.  
Based on the science and cases I have seen, and ongoing efforts to raise awareness, I have noticed that many people still do not associate talc, a naturally occurring mineral, with the ability to cause cancer. It's not hard to see why – undoing decades of messaging and marketing from J&J that was designed to convince families to view it as a trustworthy household brand takes time.
Know the link between talc, mesothelioma and ovarian cancer
Talcum powder, considered the softest mineral in the world, is used across the cosmetic and hygiene industry in many everyday products due to its highly stable nature, lack of odor and absorbency.
Talc and asbestos are both found underground and asbestos can often be found in talc deposits, leading to a risk of cross-contamination. As my colleague John Herrick explained in a blog post on asbestos, 'Because of the nearly indestructible properties of asbestos, carcinogenic asbestos fibers can cause a buildup of scar-like tissue in the lungs causing lung cancer and mesothelioma.'  
Additionally, some studies have stated that asbestos in talc can also cause ovarian cancer when used on the genitals or perineal area for feminine hygiene.  By using contaminated toiletries consumers can unknowingly expose themselves to asbestos.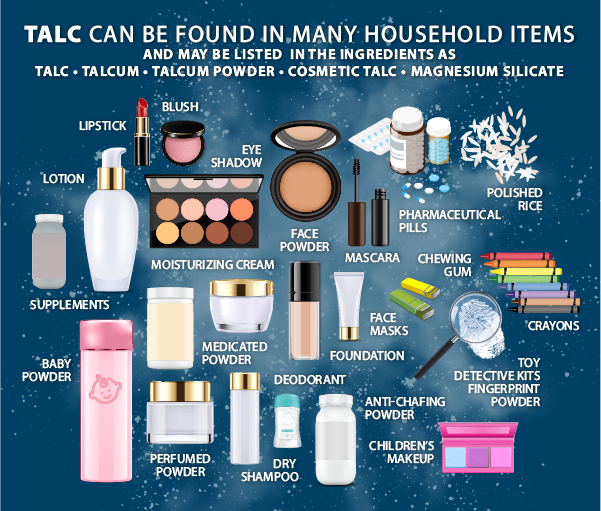 Ovarian cancer is one of the deadliest women's cancers with a 5-year survival rate of roughly 47%. Each year, approximately 21,980 women will be diagnosed with ovarian cancer.
It is often undetectable until it reaches an aggressive stage so it is important for women to pay attention to warning signs, especially if they have used talc powder throughout their life. Only 19% of ovarian cancer cases are diagnosed early, so it's critical to raise awareness about the associated symptoms, particularly including:
Bloating
Pelvic and abdominal pain
Difficulty eating
Urinary urgency or frequency
Building and marketing a "family-friendly" brand
Questions about talc's possible link to ovarian cancer date back even farther to the 1960s, according to the FDA. Instead of warning its consumers, J&J doubled down, including marketing in the 1990s that targeted African American and Hispanic women and families in particular. J&J first started marketing its "best for you" mineral powders to women, particularly mothers and babies, in 1893. It grew a strong base of brand loyal women through its heavily marketed baby products, by building trust with mothers and families despite knowing as early as 1971 ledge that their products could be tainted with the very dangerous human carcinogen asbestos.
One of the first J&J ads featuring a mother and children was the Wonderful Mother ad of 1922, still one of J&J's most popular print ads. The ad, inspired by a quote from none other than Abraham Lincoln, celebrated the special role that mothers play in their children's lives.
Other baby powder ads used the same strategy, featuring slogans such as, "Best for Baby – Best for You" and "a Luxury for Baby."
J&J also targeted feminine hygiene with ads slogans like 'it's for when you're alone… and for when you're not.'
The names 'Baby Powder' and 'Shower-to-Shower' even imply we use the products as part of a hygiene routine to prevent odor and wetness that may lead to irritation. These marketing tactics led to a top selling product for the company.
J&J continues to deny allegations that its talc-based powder products are responsible for health problems, and blames a recent decline in sales and misinformation for its decision to stop producing talc. However, evidence has been presented in litigation that some of the misinformation may have been initiated within J&J. A September 1997 internal letter medical consultant wrote suggests that J&J was well aware of the danger its products allegedly posed but chose to do nothing. If the risks are denied, the letter stated,"... the talc industry will be perceived by the public like it perceives the cigarette industry: denying the obvious in the face of all evidence to the contrary."
For more information about the years of marketing tactics used by J&J, read my previous blog: "Targeted by Talc Marketing for Years, Studies Show Black Women Have a Higher Risk of Developing Ovarian Cancer."
Looking ahead
While it is reassuring to know that once supplies of the talc-based baby powder already in stores run out, future American and Canadian consumers will no longer risk exposure to deadly asbestos fibers in J&J's baby powder, the company's announcement is unfortunately much too late for women who used J&J's baby powder and as a result developed ovarian cancer or mesothelioma.
Johnson & Johnson discontinuing its use of talc in baby powder products is ultimately a win for consumers, despite the company's continual and negligent denial that its baby powder is dangerous. However, more work is needed to ban asbestos and remove products containing it from shelves, not just here in the U.S., but across the world.
---
Subscribe to our blog if you'd like to have more content like this sent directly to your inbox.