Ron Motley Honored: Receives SCAJ Founders' Award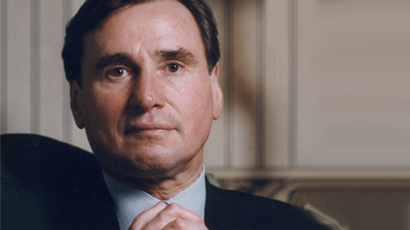 Motley Rice LLC, one of the nation's largest plaintiffs' litigation firms, is proud to announce that trial lawyer and co-founding member Ronald L. Motley has been named the 2013 recipient of the South Carolina Association for Justice (SCAJ) Founders' Award.
The award is the association's highest honor and is given in recognition of years of professional service to the people of the United States. Motley was presented this honor on Saturday, Aug. 3, 2013, during the 2013 Annual Convention in Hilton Head, S.C.
Motley has been both an integral and influential part of the national and South Carolina legal profession for more than forty years. He first made his mark by boldly taking on pioneering litigation involving asbestos, which included the Johns Manville case, and on behalf of the Attorneys General against the tobacco industry. Motley steadily grew to become an internationally acknowledged U.S. trial lawyer, one known as much for his zeal and creativity as his legal skill in the courtroom. Over the years, Motley has not only helped establish a complex civil litigation firm, but he has also pursued cases and invested heavily in litigation against daunting opponents, including alleged terrorist financiers of the Sept. 11, 2001, terrorist attacks. His fearless leadership, intolerance for defeat, and commitment to safeguarding the rights of those harmed by corporate malfeasance have impacted thousands of lives and influenced societal change throughout our civil justice system.
"Ron was my first law clerk when I went on the bench in 1971. During the two years that he worked with me, I realized his potential, but he has risen in the legal profession to heights that I did not even anticipate," stated Senior U.S. District Judge Sol Blatt, Jr. "I am so proud of the warm and devoted friendship that we have shared over all these years and of the well-deserved award that he is receiving."
Inducted into The Trial Lawyer 2012 Hall of Fame in recognition of his lifetime of public service and awarded the 2010 AAJ Lifetime Achievement Award, Motley has won widespread honors for winning justice for his clients and for his seminal impact on the course of civil litigation. To learn more about Motley's accolades and accomplishments, view his full bio.
In addition to his contributions to the legal field, Motley remains a powerful presence in the community, promoting public health and safety on behalf of America's citizens and rallying behind causes about which he is passionate. A member of numerous associations, including the Inner Circle of Advocates, which is limited to 100 trial lawyers across the country, as well as the American Association for Justice, Motley contributes to several non-profit organizations throughout the country and is the founder of the Mark Elliot Motley Foundation, a foundation that he created in loving memory of his son to benefit the many needs of children and young adults throughout South Carolina communities.
The South Carolina Association for Justice is a statewide organization that includes more than 1,300 trial lawyer members, with a focus on "Keeping South Carolina Families Safe." The Founders' Award was established by the association in 1995. For more information about the SCAJ, visit www.scaj.com.