Motley Rice seeks justice for Malaysian doctor allegedly killed by Takata airbag
The husband of 29-year-old Nida Fatin Binti Mat Asis, a young mother and respected Malaysian government doctor, filed a wrongful death suit on May 1, 2017, one year after metal shrapnel from a defective Takata airbag allegedly struck her during a one car accident on Saturday, April 16, 2016. The accident tragically claimed her life in what otherwise should have been a minor collision with minimal injuries, if any. The suit was filed in the U.S. District Court Eastern District of Michigan Southern Division.
Dr. Nida was behind the wheel when her 2006 Honda City i-DSI hit an uneven stretch of road, collided into a telephone pole and skided into a ditch on the road from Keningau to Kota Kinabalu, at KM 22 Jalan Kimanis-Keningau in Sabah State, East Malaysia. Dr. Nida was not impaired, driving within the speed limit and wearing a seatbelt when the accident occurred, but she was fatally struck and killed by flying shrapnel from the airbag inflator.
The autopsy report describes how examiners found metal shrapnel lodged in the base of her skull. The metal shrapnel struck her in the mouth and shot through her mouth like a bullet.  The shrapnel was a little more than an inch wide and two centimeters long. The suit claims the airbag's inflator exploded internally with excessive force, causing the metal canister to rupture and expel the sharp shrapnel that killed Dr. Nida.
In the car with Dr. Nida were her husband, Abdullah Shamshir Bin Abd Mokti, who suffered minor, non-life-threatening injuries in the incident, as well as the couple's one-year-old son, who was fortunately unharmed.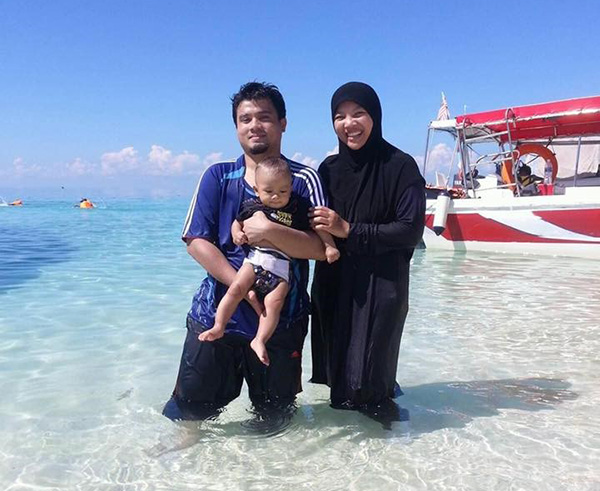 Pictured: Dr. Nida, her husband and son on vacation in December 2015.
Prior to the accident, Dr. Nida and her husband were unaware of dangerous airbag defects in their car. They purchased their used, 2006 Honda City car in 2012, and were never notified by Honda of a potential recall.
Similar occurrences sparked the historic recall of Takata airbags which began in 2014 and now affects more than 100 million vehicles worldwide. The defective airbags have allegedly been linked to at least 130 injuries and 16 deaths worldwide – five of which occurred in Malaysia, including Dr. Nida, and that of another Malaysian woman, Law Suk Leh, who was nine months pregnant at the time of her 2014 fatal crash. The Takata airbag in her Honda City killed her and her unborn baby. Motley Rice represented Leh's estate and reached a confidential settlement with Honda and Takata.
"Sadly, Nida would likely be alive today had the airbag meant to shield her from harm functioned properly," said Motley Rice attorney Kevin Dean. "Nida and her husband, like so many others, were not aware of the danger her vehicle posed to them and their son. We seek to prove in court that this tragedy could have been prevented had Takata and Honda placed the safety and well-being of their consumers above deadly, cost-cutting shortcuts by choosing to use the unstable and highly combustible ammonium nitrate in the airbags."
"I refuse to let my wife die in vain. By telling her story, we hope Takata and Honda will do more, particularly in Malaysia, to notify everyone with impacted cars that they are potentially deadly," said Dr. Nida's husband. "I hope no other family has to endure what her mother and her father have endured this past year. She was brilliant, kind and a very loving mother to her son, Azzam."
Defendants named in the suit include Takata Corporation, TK Holdings Inc., Honda Motor Co., Ltd., Honda R & D Co., Ltd., American Honda Motor Co., Inc., and Honda of America Mfg., Inc.