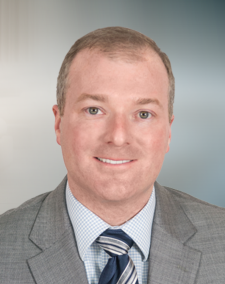 Photos show the full picture of deadly defective Takata airbags | Causes, Not Just Cases®
People injured by explosive Takata airbags can now file a claim for compensation through one of three separate funds that were created to compensate victims, but victims must present evidence that their airbag was defective and show the extent of their injuries in order to receive any compensation through the claims process. In some cases, if the vehicle is no longer available, photos may be enough evidence to support a claim.
Takata victims who are considering seeking recourse through the Takata Airbag Tort Compensation Trust Fund (TATCTF), the Individual Restitution Fund (IRF), and/or the Participating Original Equipment Manufacturer (P-OEM) Honda North America, Inc., Channeling Agreement Fund (P-OEM Fund) have until April 11, 2021 to file a Notice of Claim and/or Claim Form for accidents that occurred more than three years ago, or before April 11, 2018. Anyone who was injured by a defective Takata airbag after April 11, 2018 has three years from the date of their accident to file notice. Failure to file a Notice of Claim or Claim Form by the deadline means victims' claims will be forever barred.

For details on how to file a claim, visit the Takata Injury Trust website.
Takata airbags were installed into vehicles manufactured by 19 different automakers and have been recalled in what NHTSA has called "the largest and most complex safety recall in U.S. history." These defective airbag inflators were built for both driver and passenger-side airbags. Recalls and major injuries continue today while many vehicles with defective airbags continue to be driven.
Below are examples of pictures of shrapnel and debris from ruptured Takata airbags that our attorneys have seen during our investigations of the defect. Visit takataairbaginjurytrust.com for more information, and to review and complete the claim forms.
A closer look at defective Takata airbags
Note: Photos of injuries can also be submitted when filing a claim, but we are not including injuries here due to their graphic nature.
The Takata airbag issue can be aptly described as "a ticking time bomb in your vehicle," particularly for vehicles subject to hot, humid climates. The defect in these metal inflators creates openings that allow moisture to seep into them, reaching the ammonium nitrate and creating a volatile environment. The propellant is Phase Stabilized Ammonium Nitrate, a chemical which rapidly converts from a solid to a gas to fill the airbag cushion. Where the defect manifests, the propellant burns too rapidly and ruptures the canister. This can cause the metal canister or pieces of the canister to explode and shoot into the passenger compartment and the passengers in the car.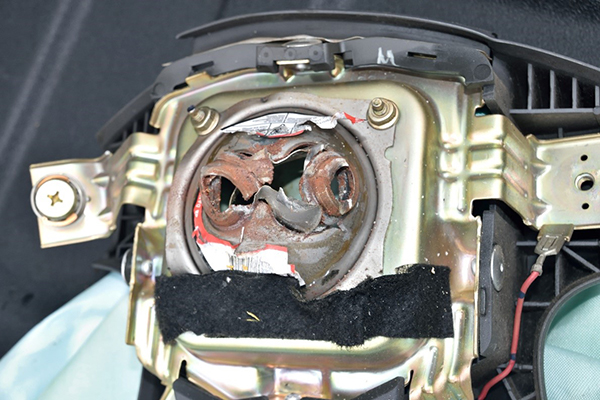 This is an example of a ruptured driver's side Takata airbag inflator – the portion of the airbag that, when triggered, causes the airbag to inflate.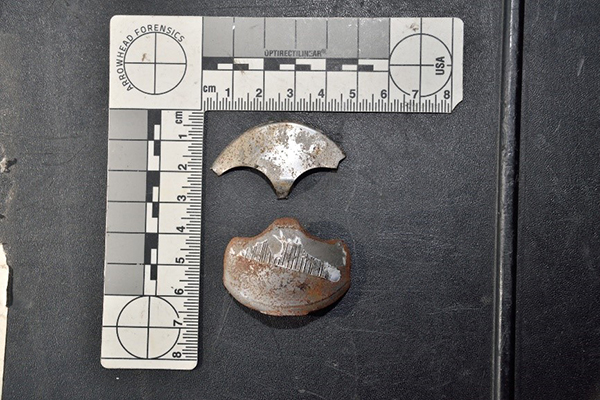 If the inflators rupture, metal fragments like these from a driver's side inflator can strike vehicle occupants like shrapnel, causing severe injuries.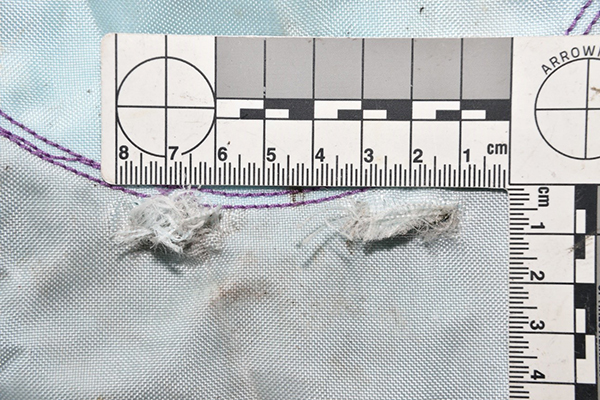 Exit holes on the airbag show where pieces of the driver's side inflator ruptured. This unfortunately means that shrapnel shot through the airbag and perhaps hit an occupant.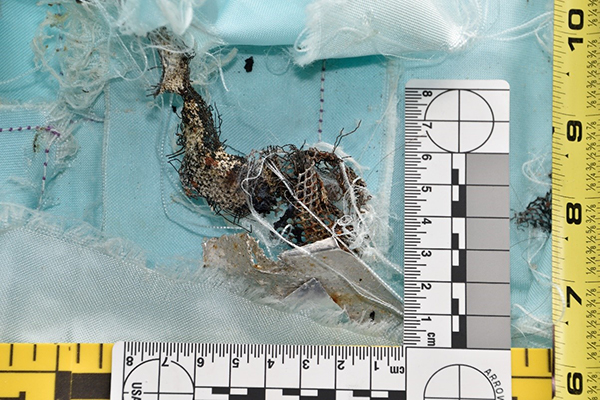 Debris from a passenger's side airbag inflator is pictured on top of the airbag cushion fabric.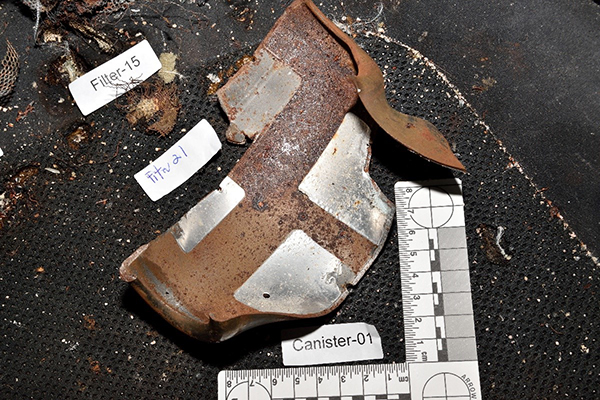 Airbag inflators house the propellant which turns into the gas that fills an airbag when triggered. This is an example of a ruptured passenger's side inflator. Also pictured is metal filter material on the passenger's seat.
As we've shared regularly, vehicle owners should regularly check their VIN at safercar.gov for recalls. As of December 18, 2020, nearly 10 million airbags remain on the road that have not been repaired. Even some of the replacement airbag inflators with the same propellant have been recalled and have been shown to rupture.
Read more on defective Takata airbags and how to check for vehicle recalls on the Motley Rice Law Blog:
---
Subscribe to our blog if you'd like to have more content like this sent directly to your inbox.