New reports indicate Takata airbag recall is a bigger safety issue than ever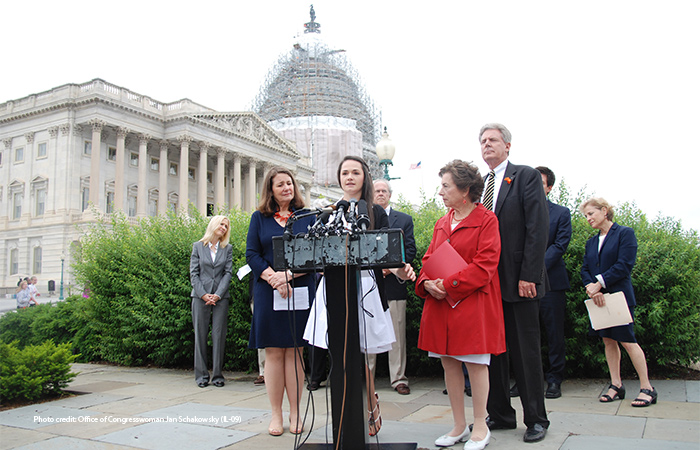 One year has passed since Motley Rice client Angelina Sujata stood outside of the Capitol building in Washington, D.C. on June 2, 2015 and spoke of the ordeal she suffered after the Takata airbag in her 2001 Honda Civic exploded, sending metal fragments flying into her chest.
In the year since Angelina's speech, a list of recalled vehicles with defective Takata airbags has steadily grown to an estimated 60 million, or one in every five vehicles driven by Americans. The most recent of 20 expansions was announced in May, and included vehicles from Ferrari, Honda, Mazda, Nissan, Subaru, Toyota and other popular manufacturers.
It is believed that more than 100 million vehicles could be affected around the world –  many of which remain on the road.
A worldwide push to repair the defective vehicles hasn't been made any easier by multiple automakers that are still selling or have plans to sell new vehicles that are equipped with airbags that, too, are scheduled to be recalled by the end of 2018. This news came to light after the U.S. Senate Committee on Commerce, Science, and Transportation released a report on June 1, 2016: The Takata Recalls: Consumers are Still Stuck in Neutral.
 "It's unacceptable that any automaker would consciously endanger lives by continuing to saturate our roads with defective Takata airbags, despite all of the evidence that shows just how much of a risk they pose," said Motley Rice vehicle defect attorney Kevin Dean. "Not enough is being done to repair the millions of older models we already know have been affected. By further adding to the problem, these particular automakers seemingly have displayed a willingness to place their own bottom line above the interest of public safety, and that cannot be tolerated."
The report also reveals that the percentage of defective vehicles that had been repaired remains "unacceptably low." As of March 2016, data provided by 11 automakers showed completion rates that ranged from .04 to 39.5 percent, the report stated. Three other automakers reported that they had not yet started replacing the airbags.
Victims React
Utah father Fred Johnston, whose daughter Randi was struck in the neck by a piece of shrapnel from a Takata airbag that severed her vocal cords, told a reporter that placing defective bags into new cars was "unconscionable."
"People need to know these things are dangerous," Johnston said. Watch the full interview.
Randi, 25, is a Motley Rice client who filed a product liability suit against Takata last year. In a news report, she said she considered herself lucky to be alive, despite her ability to speak being forever limited.
Reports indicate that Takata knew of its airbag's hidden dangers as early as 2004, 10 years before recalls began in 2014. Shrapnel from the bags have been linked to the deaths of 13 people, with more than 100 injured.
For now, the U.S. Senate Committee on Commerce, Science, and Transportation has determined "additional steps must be undertaken to identify all impacted vehicles still in service and repair them as soon as possible."