Angelina Sujata, Alleged Takata Victim, Speaks on Vehicle Safety Before Takata Hearing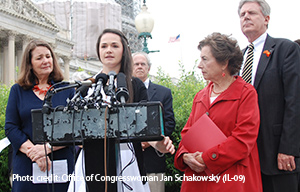 On June 2, 2015, Motley Rice client and survivor of an accident involving an allegedly defective exploding Takata airbag, Angelina Sujata, spoke before a large crowd of vehicle safety advocates, legislators and reporters gathered outside of the Capitol building in Washington, D.C. to show her support for the Vehicle Safety information Act (H.R. 1181). This press conference was held before a 2 p.m. hearing by the House Energy & Commerce Subcommittee on Commerce, Manufacturing and Trade to address concerns regarding the Takata airbag recall.
Allegedly injured by an exploding Takata airbag on March 2, 2012, Angelina urged the passage of this act so that important vehicle defects and recalls no longer fly under the radar. 
"People have the right to know about dangerous defects their cars might have, and all responsible parties, including vehicle manufacturers, have a duty to report and make this information available," said Angelina.
In addition to Angelina speaking, Rep. Janice Schakowksy of Illinois, who originally introduced the Vehicle Safety Information Act to the House of Representatives on Feb. 27, 2015, spoke about the need to avoid another Takata-like failure, and urged those in attendance to join her in advocating the passage of H.R. 1181.
Vehicle Safety Information Act (H.R. 1181)
The Vehicle Safety Information Act was also addressed during the hearing, along with other issues related to the Takata airbag recall.
During the hearing, Rep. Schakowsky specifically asked Mark Rosekind, Administrator of the National Highway Traffic Safety Association, if he would have used the bill's proposed "imminent hazard authority" to issue an emergency recall of Takata airbags last year, to which Rosekind replied that he would have.
Along with imminent hazard authority, the proposed bill would give NHTSA additional enhanced capabilities and accountability, including:
An increase in civil penalties
Additional early warning reporting requirements
Stricter standards on the retention of safety records by vehicle manufacturers
The Act would also put stricter guidelines on NHTSA, requiring regular reports on the Administration's use of early warning data and ways in which it can regularly improve on auto safety recall completion rates.
NEWS:
Detroit News (June 2, 2015): Democrats push auto safety reform bill
New York Times (June 2, 2015): Airbag Propellant Is Likely Focus of Takata Hearings in Washington
Huffington Post (June 2, 2015): Passing the Vehicle Safety Improvement Act Could Prevent Major Auto Recalls