At Motley Rice, we work to help aviation disaster survivors and victims' families, as well as victims of passenger rights violations. Our aviation attorneys have handled a wide variety of aviation cases, representing plane crash victims, both passenger and crew, from the United States and abroad. We recognize that survivors and family members of victims have many concerns following an aviation disaster and may face considerations of complex legal rights and actions. We approach each case with the goals of:
Reassuring our clients that we can handle the intricacies related to investigating and litigating their cases
Relieving our clients of as many burdens as we can
Giving our clients a voice at a time in their lives when they feel the most vulnerable.
We not only seek justice and compensation for our clients, but also seek accountability from defendants and improvements in aviation safety and security standards.
Aviation Brochure

Download our aviation brochure for background on our experience, approach to cases and attorneys in the aviation practice group.
Our Aviation Litigation Team
As one of the largest plaintiffs' firms in the United States, Motley Rice has the professional experience and financial resources to investigate, litigate and resolve aviation crash cases in the U.S. court system on behalf of clients residing virtually anywhere in the world. We also work with foreign lawyers on cases outside of the U.S. Motley Rice has represented victims in litigation against airlines, manufacturers, maintenance contractors, airports, air traffic control and government entities.
Attorney Mary Schiavo, who often serves as a CNN Aviation Analyst and is the former U.S. Department of Transportation Inspector General, leads our aviation team, which includes attorney Jim Brauchle, a former navigator, as well as other attorneys and support staff. Motley Rice also employs three jet pilots, an aviation maintenance expert, a former flight attendant and multilingual translators. When an air tragedy occurs, we conduct our own extensive research for the litigation process as well as thoroughly analyze government investigations by the National Transportation Safety Board (NTSB), the Federal Aviation Administration (FAA) and the aviation investigative agency on location for an international crash.
Recognized for bringing one of the largest aviation cases in history on behalf of 9/11 victims' families, our aviation attorneys remain at the forefront of the complex legal and technical aspects of aviation law. We stay on top of recent aviation incidents and investigations, using our experience and resources to research and analyze all aspects of an aviation disaster. See all news about aviation crashes under review.
International, Multinational and Cross-Border Litigation
Motley Rice, along with foreign co-counsel in the country of each crash, has been involved in international cases concerning crashes in countries such as Brazil, France and Canada. We believe that seeking improvements in aviation safety standards in our own country is important and that the same safety standards should be in place regardless of flight location and destination.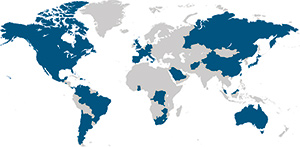 Our aviation attorneys have worked with clients and/or on crashes in all 50 United States, the District of Columbia and Puerto Rico, as well as the countries shown in blue on the map.
Compassion, Guidance and Support
Through our work with our clients and our aviation-related experience prior to joining Motley Rice, we understand the pain, confusion and questions that often follow tragic events and know that many clients feel overwhelmed by the emotional circumstances which brought them to us. While coping with the loss of a loved one or the devastation of a permanent injury, survivors and family members face numerous other obstacles such as medical expenses, loss of income and other important decisions that must be made. The option to pursue legal action may be a last consideration.
Our attorneys recognize that the idea of bringing a lawsuit can be daunting — but it doesn't have to be. We consider it an essential part of our job to guide our clients through every step of the process, helping to lessen any anxiety they feel, and giving them the support, information and means to take control of terrible circumstances.
If you or someone you know is interested in seeking legal recourse due to wrongful death or personal injury as a result of a plane crash, please contact Motley Rice aviation attorneys Mary Schiavo or James Brauchle by email or call our 24-Hour Aviation Hotline at 1.800.868.6456.
The Motley Rice Aviation Team Represents:
Passengers and their families
Airport and airline workers
Flight attendants
Pilots
Victims and survivors of terrorist attacks involving commercial airlines
People on the ground injured by incidents involving:



Charter planes
Helicopters
Small planes
Balloons
Types of Aviation Lawsuits
Motley Rice seeks to hold accountable those responsible in personal injury or wrongful death cases that involve aviation crashes, terrorist attacks or other incidents. See the types of aviation cases that we have litigated or are currently litigating.
Facing Tough Opposition
Motley Rice is determined to hold accountable airlines, airports, maintenance companies and manufacturers around the globe when their services and equipment result in injury or death. See a list of defendants we have litigated cases against.
Our Commitment
We are here to protect the interests of our clients and their loved ones, and will invest the resources and time necessary to work toward the best possible outcome. Each air crash has its unique set of facts and circumstances, but the common thread among all the families we have represented is the desire to know why this happened, and we strive to help them get answers.