Law360 names Motley Rice a 2018 Consumer Protection Group of the Year
Motley Rice was one of five firms nationally to be named a 2018 Law360 Consumer Protection Group of the Year.
View the feature on the firm here.
The firm has a long history of landmark action for consumer and worker protection, beginning with asbestos and tobacco and continuing today, including defending a historic lead paint verdict on appeal against three paint companies accused of creating a public nuisance by promoting the use of toxic lead pigment in homes in ten California jurisdictions. The U.S. Supreme Court declined to review the case in October 2018, effectively exhausting defense appeals of a 2014 bench trial verdict and subsequent lower court decisions that required the companies to fund the removal of toxic lead paint from pre-1951 constructed homes in plaintiffs' jurisdictions. Motley Rice attorneys and co-counsel worked for 18 years to advance the litigation and are currently engaged in negotiations to determine the final amount defendants will pay to remove toxic paint and enhance the safety of millions of California children and families.  
"I believe Motley Rice was successful in 2018 because of the diversity of cases that our firm tackled and the firm's long-standing commitment to take on difficult cases," said Motley Rice attorney Fidelma Fitzpatrick, who served as lead trial counsel for plaintiffs in the 2014 bench trial in California. "Motley Rice's practice groups — almost all of which are focused on litigating to protect consumers — each tackled different areas over the past year, deeply impacting consumers. We were able to achieve great results through dedication, tenacity, and staying the course in the face of multiple obstacles."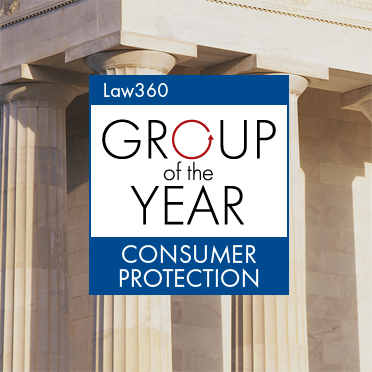 In addition to the lead paint litigation in California, Law360 also recognized Motley Rice for its leadership in the National Prescription Opiate Litigation, including firm co-founder Joe Rice's position as co-lead counsel and a member of the PEC for the MDL coordinated in the Northern District of Ohio.  The federal litigation seeks to hold the pharmaceutical industry accountable for its alleged role in creating the opioid crisis, and is currently comprised of more than 1,500 cases filed by state attorneys general, local governments, and other public entities.    
Motley Rice continues its work advocating for consumers throughout its practice areas, including consumer and securities fraud, product defects, worker health and safety, aviation and medical drugs and devices, among other litigation areas.
About Law360's Practice Group of the Year Award
Law360 selected 185 winning groups across 38 practice areas to receive Practice Group of the Year for 2018, the award's ninth year. Award recipients were recognized for being behind litigation wins and major deals that resonated throughout the legal industry in the past year. In all, 84 law firms were selected from 759 submissions. Read more.