Charleston, S.C., Mayor John Tecklenburg proclaims Mesothelioma Awareness Day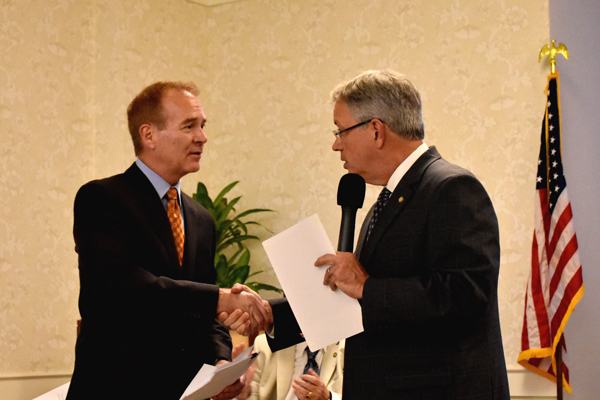 During a City Council meeting on Tuesday, Sept. 25, 2018, Charleston Mayor John Tecklenburg declared Sept. 26, 2018, as Mesothelioma Awareness Day in Charleston, S.C. This is the 7th year that Motley Rice has requested a proclamation and the day has been officially recognized in the City of Charleston.
"Exposure to asbestos for as little as one month can result in mesothelioma 30 years later," Mayor Tecklenburg said, reading from the proclamation. "Because of occupational, Navy-service related, household, or even incidental exposures and the very long latency of the disease, tens of millions of Americans are at risk for developing mesothelioma. For decades, the need for research to develop effective treatments for mesothelioma was overlooked, and the result of this neglect is that treatments available today generally only have limited effect."  
Asbestos attorney John Herrick accepted the Mesothelioma Awareness Day proclamation on behalf of Motley Rice and thanked the City, Mayor and Council members for their continued efforts to raise awareness of this horrible disease and its cause.
Mesothelioma is an aggressive form of cancer targeting the lining of the lungs, chest wall and abdomen, and is caused by exposure to asbestos. Mesothelioma victims are often diagnosed years, or even decades, after they were originally exposed. The disease can develop after even a brief exposure to asbestos.
During his remarks, Mayor Tecklenburg acknowledged the ongoing need to raise awareness, as many Charlestonians and Americans are effected. He said that mesothelioma tragically impacted his own family when it claimed the life of his brother-in-law, who had developed the disease after working in the Charleston Naval shipyard.
Despite known dangers associated with asbestos, an outright ban is not in place in the U.S. and the toxic mineral continues to be incorporated into products and imported to this day. As a result, countless lives remain at risk. The extensive list of victims includes:
Shipyard workers, including Charleston's Naval Yard
Power and chemical plant workers
Construction and other industries where asbestos was used, such as pipe fitting and insulation
The courageous firefighters, police officers, and rescue workers who inhaled toxic and polluted air from Ground Zero on 9/11/01
Raising awareness is more important now than ever as decades old reforms that aspired to phase out asbestos by barring new uses of the mineral in the U.S. continue to be threatened, Herrick said.
"The EPA as recently as June is starting to walk back that approach," Herrick said. "They've proposed a new rule that would require manufacturers and importers to seek EPA approval before processing asbestos or selling asbestos-containing products. What this means is that asbestos-containing products may again be on the market someday. Because of the long latency associated with it, we won't realize the effects of that for 30, 40, or 50 years down the road."
Learn more about previous Mesothelioma Awareness Day proclamations: