Motley Rice lawyer named Champion for Justice
Recognizing his more than three decades of work representing plaintiffs, the Roger Williams University School of Law named Motley Rice member attorney Robert McConnell as one of its 2019 Champions for Justice. The award supports the schools' students, alumni, partners and friends who demonstrate "exception devotion to social justice increases access to justice for all."
In addition to his legal accomplishments, Bob also was recognized for being a long time board member of the Nonviolence Institute, The George Wiley Center and the Pro Bono Collaborative of the Roger Williams University Law School.
Bob focuses his practice on asbestos exposure cases, lead pigment litigation, childhood lead poisoning cases, groundwater and soil contamination cases and other toxic environmental litigation. He represents victims seeking corporate accountability as a result of personal injury, property damage and economic loss as a result of negligent environmental practices.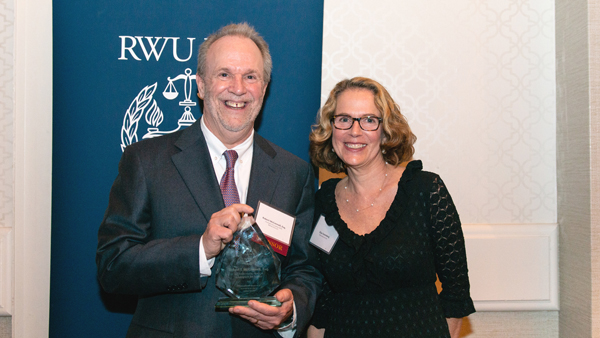 Attorney Bob McConnell with Eliza Vorenberg, Director of Pro Bono & Community Partnerships at RWU
Bob was a member of the trial team representing the state of Rhode Island against corporate defendants from the lead paint industry. He also secured the largest lead paint poisoning settlement in Rhode Island on behalf of a child and continues to represent children injured by lead poisoning against property owners, governmental agencies and lead pigment companies. He also played a leading role in a statewide lobbying effort to defeat legislation that would have denied lead-poisoned children and their families the right to seek justice. Through testimony, analysis and grassroots outreach, he helped the Rhode Island legislature pass a bill helping to prevent childhood lead poisoning without infringing on victims' rights.