If your vehicle is one of the millions impacted by the recall of Takata airbags, you were likely shocked to learn that you were—or still are—driving around with a very dangerous airbag that could seriously injure you or your passengers. One in eight Americans drives a vehicle with a potentially defective airbag, and one in five drivers world-wide drive a vehicle with a potentially defective airbag. These defects have allegedly caused at least 25 deaths and more than 400 injuries worldwide. Takata airbags are still being used for replacements and in new vehicles, despite being the source of the largest consumer product recall in U.S. history with roughly 70 million vehicles recalled throughout the nation, and nearly 100 million worldwide.
TAKATA INJURY CLAIM FILING DEADLINE NEARS FOR U.S. VICTIMS
Jan. 29, 2021
U.S. victims injured and the estates of those tragically killed due to certain Takata Airbag Inflator Defects on or before April 11, 2018, have until April 11, 2021 to file either a notice of claim or a completed claim form to be considered for compensation through the Takata Airbag Tort Compensation Trust Fund (TATCTF), the Individual Restitution Fund (IRF), and/or the Participating Original Equipment Manufacturer (P-OEM) Honda North America, Inc., Channeling Agreement Fund (P-OEM Fund). The notice of claim form must be postmarked or electronically filed on the Takata Airbag Injury Trust website by April 11, 2021. This is the only source of compensation for these claims.
This April 11, 2021 deadline applies to certain Takata airbag inflator defect claims against the airbag manufacturer as well as certain Takata airbag defect claims against vehicle manufacturers Honda, Acura, Nissan, and Infiniti. Failing to file the notice of claim form or completed claim form for these claims covered by the TATCF, IRF, or P-OEM Fund by April11, 2021 means the claims will be forever barred. Read more.
Claim forms are available online at http://www.takataairbaginjurytrust.com/.
Motley Rice is representing people who were seriously injured in an accident involving a vehicle recalled for the Takata airbag defect. To see if your specific vehicle is included in the recall, visit the NHTSA website and enter your VIN.
Takata catastrophic injury claims

If you or someone you love has been seriously injured in an accident involving a recalled vehicle and you believe that those injuries were caused by a defective Takata airbag, you may have legal rights. Please contact Motley Rice attorney Kevin Dean by e-mail or at 1.800.768.4026 for more information.
NHTSA orders recall of 3 million Ford, Mazda vehicles
Ford Motor Co. and Mazda Motor Corp., must recall and repair 3 million vehicles that contain potentially defective Takata airbags, NHTSA ordered Jan. 19, 2021, rejecting requests from the automakers to avoid a recall.    
Vehicles included in the latest recall are: 
2007-2011 Ford Ranger
2006-2012 Ford Fusion, Lincoln Zephyr and Lincoln MKZ
2006-2011 Mercury Milan
2007-2010 Ford Edge and Lincoln MKX
2007-2009 Mazda B-Series small pickups
Motley Rice Takata airbag test shows what happens when a defective airbag is deployed:
Personal injuries
Violent and overly aggressive Takata airbag deployments, ruptures and explosions may cause motorists and passengers to suffer severe injuries, and possibly death. Injuries may include:
Arm breaks above the wrists
Excessive black eyes
Neck damage or break
Brain injury or concussion
Compound fractures
Burns
Facial or cranial fractures
Rib, sternum and/or clavicle fractures
Spinal fractures
Serious cuts or avulsions
Injuries related to metal shrapnel
Permanent scarring
Hearing damage or loss
Vision damage or loss
Vocal damage or loss
Our experience and leadership in the Takata airbag lawsuits
Motley Rice vehicle defect attorney Kevin Dean has been reviewing and studying the issues involved with defective Takata airbags since he filed a wrongful death action in November 2014. Dean and his forensic team have investigated more than 100 cases.
In 2015, we, along with co-counsel, reached a confidential settlement for Law Suk Leh, a Malaysian woman, and her unborn baby, Elsa Mia Law Caido, who were allegedly killed by the violent explosion of metal shrapnel expelled from a Takata airbag in a car that had not been recalled. Leh was 42-years-old and nearly nine months pregnant at the time of the crash that happened on July 27, 2014, in Sibu, Sarawak, East Malaysia while driving her 2003 Honda City Car. Upon impact, metal shrapnel flew out of the airbag and caused a severe puncture wound in her neck leading to Law's death. Her baby, Elsa Mia Law Caido, was delivered, but passed away days later.
In 2016, we reached a confidential settlement in the case of a woman, who allegedly suffered permanent vocal cord damage when shrapnel from a Takata airbag cut her throat during an accident involving her 2003 Honda Civic. (Prior results do not guarantee a similar outcome.)
Having experience in other vehicle defect cases and intensely studying defective airbags, Kevin Dean is frequently a resource for media reporting on the issue, including CBS Evening News. Watch Kevin's interview with CBS Evening News about the Takata recalls: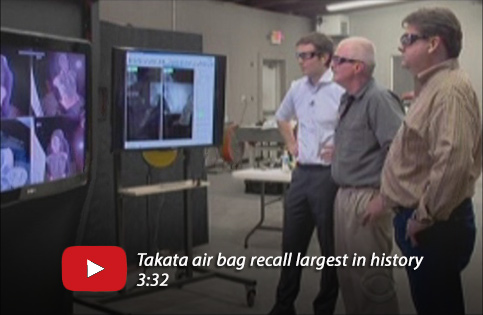 Largest auto recall in U.S. history
On May 19, 2015, the U.S. Department of Transportation (DOT) and its National Highway Traffic Safety Administration (NHTSA) announced that Takata Corp., had acknowledged a defect in Takata airbags installed in nearly 34 million vehicles manufactured by 11 different automakers. NHTSA researchers stated at the time it was not only the largest U.S. auto recall in history, but possibly the largest in all of U.S. consumer product recalls. DOT Secretary Anthony Foxx said this was "the most complex consumer safety recall in U.S. history." Read More.
In November 2020, an additional 7 million General Motor vehicles were added to the list of recalled vehicles covering GM trucks and SUVs from 2007 through 2014, including the Chevrolet Silverado 1500, 2500 and 3500 pickup, Chevrolet Suburban, Tahoe and Avalanche, the Cadillac Escalade, GMC Sierra 1500, 2500 and 3500, and the GMC Yukon. Read more about this recall.
Newly discovered Takata airbag defect affects millions 
A newly discovered defect prompted a recall in 2020 of nearly 3 million older model BMW, Audi, Honda, Isuzu, Toyota and Mitsubishi vehicles in the U.S. due to potentially faulty Takata airbag inflators. Separate from Takata's exploding airbag recall that affected 100 million vehicles and has been linked to at least 25 deaths worldwide, the latest defect affects front driver Non-Azide Driver Inflators (NADI) that have insufficient seals which may deteriorate over time when exposed to moisture. As a result, the inflators may explode too quickly causing airbags to rupture, possibly striking vehicle occupants with metal fragments. The airbags could also underinflate, failing to protect motorists. At least one person is believed to have died due to the defect. Read more.
Takata restitution fund established for injured people
On Jan. 13, 2017, the U.S. Department of Justice announced that Takata agreed to plead guilty to a single felony count of wire fraud and pay $1 billion in criminal penalties, roughly $125 million of which was set aside to form an Individual Restitution Fund to compensate consumers who suffered or will suffer personal injuries. Special Master Eric D. Green will oversee the fund.  
Takata bankruptcy
Takata Corp. filed for Chapter 11 bankruptcy in June 2017, claiming that a restructuring of the company's assets was needed to appease creditors. The filing came months after Takata agreed to pay a myriad of fees, including roughly $1 billion to the U.S. in criminal penalties, related to the mass recall of its defective airbags. In a hearing June 27, 2017, Motley Rice asked the Court to consider forming a committee to protect plaintiffs' interests throughout the bankruptcy proceedings. Read more on the request.
On July 6, 2017, three personal injury plaintiffs represented by Motley Rice and co-counsel were selected to join a seven-member Tort Creditors' Committee comprised of personal injury and economic loss claimants harmed by Takata Corp. The committee served as a mouthpiece for similarly situated claimants across the country, and aimed to advocate for their concerns throughout Takata's bankruptcy proceedings. Read more on the Tort Creditors' Committee.
In February 2018, the U.S. Bankruptcy Court for the District of Delaware approved a pair of bankruptcy resolutions reached between Takata and creditors. Motley Rice helped negotiate the resolutions and secure funds for current claimants and potential future personal injury and wrongful death victims.  The resolutions include a trust for personal injury victims, valued between $90 and $137 million, and a channeling agreement that allows for future claims. The first resolution is with TK Holdings, Inc., the U.S. division of Takata, and the other with Original Equipment Manufacturer (OEM) Honda North America, Inc. By engaging in negotiations through the Tort Creditors' Committee that was established at the onset of the bankruptcy process, victims, including some represented by Motley Rice, were able to secure resolutions that were more favorable for plaintiffs than those initially proposed by Takata and the OEMs. Read more.
A trust established for current and future personal injury victims harmed by Takata airbags began accepting claims May 30, 2018. Claim forms are available on the Individual Restitution Fund website and claimants are welcome to fill out and submit the forms on their own. For cases involving complicated injuries, claimants may consider consulting an attorney prior to submitting the form. Read more.
For updates on Takata's Bankruptcy, visit, https://restructuring.primeclerk.com/takata/.
Background on Takata airbag defects
On high alert due to GM's unprecedented series of recalls that kicked off in 2014, NHTSA issued a consumer advisory to all potentially impacted vehicle owners on Oct. 22, 2014.
The advisory urged owners in humid climates such as Florida, South Carolina, Puerto Rico and areas along the Gulf of Mexico to act immediately as the defect may be related to prolonged exposure to hot, humid environments. Honda, in particular, expanded its recall on Nov. 6, 2014, to include all high humidity states in which the recalled cars were ever sold or registered, including: Alabama, Florida, Georgia, Hawaii, Louisiana, Mississippi, South Carolina, Texas, Puerto Rico, U.S. Virgin Islands, Saipan, Guam, and American Samoa. However, many called for the immediate recall of all vehicles equipped with Takata airbags.
On April 16, 2015, Nissan expanded its recall of Nissan Sentras to include 45,000 more cars with model years 2004 to 2006 located in certain areas of high humidity along the U.S. Gulf Coast. Nissan issued this expansion after learning of a 20-year-old L.A. woman injured by flying shrapnel ejected from a Takata airbag in a previously unrecalled 2006 Nissan Sentra. Motley Rice attorney Kevin Dean filed a personal injury suit against Takata on her behalf.
On Nov. 3, 2015, U.S. DOT imposed the largest civil penalty in NHTSA's history on Takata. Of that $200 million fine, $70 million was due immediately, and the remaining $130 million would become due if the airbag company failed to follow orders issued by NHTSA, including the appointment of an independent safety monitor. NHTSA also ordered to phase out the production and sales of airbag inflators that use ammonium nitrate propellant.
On May 4, 2016, NHTSA announced an expanded recall of 40 million faulty airbag inflators, in addition to the 28.8 million inflators already recalled, increasing the number of vehicles recalled in the U.S to roughly 70 million. An estimated 100 million vehicles have been recalled worldwide. The phases of the recall are planned to take place between May 2016 and December 2019.
Reports released in June and July 2016 by the U.S. Senate Committee on Commerce, Science, and Transportation revealed that seven manufacturers —Fiat Chrysler, Mitsubishi, Toyota, Volkswagen, Ferrari, Daimler Vans, and Mercedes-Benz— are still installing the Takata airbags in new vehicles, even though they are scheduled to be recalled by the end of 2018. The reports also revealed that the percentage of defective vehicles that had been repaired remained "unacceptably low." Completion rates ranged from .04 to 39.5 percent, according to data provided by 11 automakers in March 2016, the report stated.
In June 2016, NHTSA urged owners of certain 2001-2003 Honda and Acura vehicles to immediately repair or cease driving these automobiles after new data concludes they have a 50 percent chance of rupture if involved in a crash.
See more about Personal Injury and Wrongful Death litigation