Firefighter Health Awareness: "Big John" visits Motley Rice for Global Asbestos Awareness Week
For Immediate Release   
GLOBAL ASBESTOS AWARENESS WEEK & "BIG JOHN"
Firefighter Health Awareness Campaign advocates for asbestos awareness and early detection
MT. PLEASANT, SC – Yesterday, on the third day of Global Asbestos Awareness Week, law firm Motley Rice LLC welcomed Charleston Firefighter Support Team  leader Chief Gerald Mishoe and "Big John," a 1969 Mack CF600 fire truck that was restored in honor and memory of City of Charleston Fire Department Battalion Chief John Winn. The truck and team members travel throughout South Carolina advocating for health screenings that help firefighters detect life-threatening illnesses such as mesothelioma.
Addressing a crowd of Motley Rice attorneys and staff, as well as members of Chief Winn's family and several City of Charleston firefighters, Chief Mishoe shared the story behind "Big John" and the legacy that Chief Winn wished to leave behind. Chief Winn lost his fight with mesothelioma in May 2012 but not before starting the Firefighter Health Awareness Campaign to encourage South Carolina fire departments to require early health screenings. Firefighters run the risk of entering buildings in which they may be exposed to asbestos, and Chief Winn was familiar with the importance of early detection measures. "Big John" helps promote this worthy cause, and the campaign has already led to the early diagnoses of serious illnesses for five of South Carolina's firefighters.  
Each year, an estimated 3,000 people in the United States and Canada are diagnosed with mesothelioma. These victims are often service members, workers, veterans and family members who were exposed to asbestos in hazardous occupational environments or through household exposure. To date, there is still no known cure for mesothelioma. Fifty-five countries have banned asbestos, but the United States and Canada have yet to take this important action.  
"Our attorneys and staff work daily with victims of asbestos-related diseases and their families," said Motley Rice member attorney Anne McGinness Kearse. "Seeing firsthand the devastating effects that asbestos exposure can have on innocent people, hearing their stories and learning how exposure has impacted their lives, makes each one of us want to fight harder to increase public awareness about the importance of asbestos awareness, prevention and the fight to ban this material in the United States. I hope Chief Winn's story and his colleagues' efforts inspire others to take on similar advocacy efforts."
Motley Rice attorneys continue to litigate asbestos cases and support asbestos awareness organizations such as the Asbestos Awareness Disease Organization, the Mesothelioma Applied Research Foundation, the International Mesothelioma Program and the Princess Margaret Hospital Foundation. 
About "Big John"
"Big John" is being used to support the Firefighter Health Awareness Campaign, a privately funded project, and is available to travel around South Carolina to encourage cities, counties, fire districts and other entities to provide the necessary health screening tests to help firefighters detect life-threatening illnesses. Call (843) 225-3850 to schedule a visit with "Big John," or visit www.charlestonffsupport.blogspot.com for more information.
About Motley Rice LLC
Motley Rice is one of the nation's largest plaintiffs' litigation firms. With a tradition of representing those whose rights have been violated, Motley Rice attorneys gained recognition for their pioneering asbestos lawsuits, their work in the landmark litigation against Big Tobacco and their representation of 9/11 victims, families and survivors in the ongoing lawsuit against terrorist financiers. Motley Rice is headquartered in Mt. Pleasant, S.C., and has additional offices in California; Connecticut; Louisiana; Washington, D.C.; New York; Rhode Island and West Virginia. For more information about Motley Rice, contact Joe Rice (DC, SC) at 1.800.768.4026. Connect with us on Facebook, LinkedIn and Twitter.
###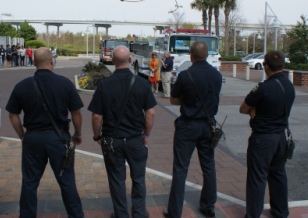 Captain John Winn Jr.'s Charleston Fire Department team members watch Chief Gerald Mishoe and Motley Rice lawyer Anne McGinness Kearse tell the crowd about Chief Winn's story, the need for asbestos awareness and the Firefighter Health Awareness Campaign.