New member appointments
Motley Rice LLC, one of the nation's largest plaintiffs' firms, is proud to announce the promotion of six attorneys to the firm's membership. This class of new members possesses experience throughout a variety of the firm's numerous practice areas.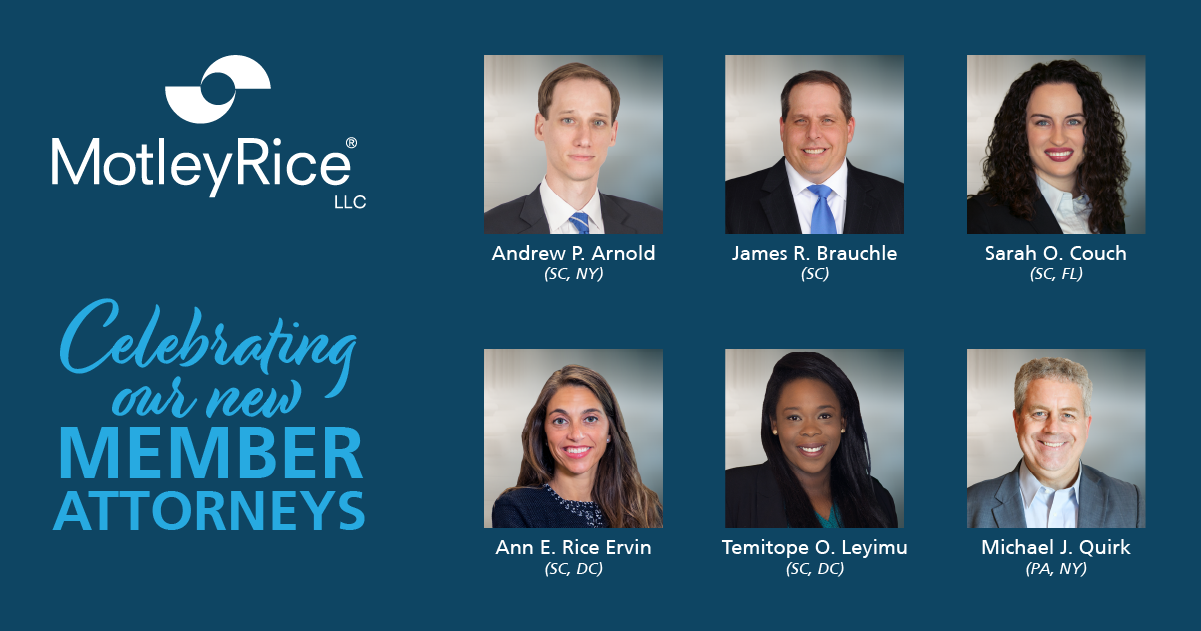 Attorneys selected for membership include:
Andrew P. Arnold
James "Jim" R. Brauchle
Sara O. Couch
Ann E. Rice Ervin
Temitope "Tope" O. Leyimu
Michael J. Quirk
Andrew Arnold practices in Motley Rice's securities fraud class action group, including overseeing the firm's portfolio monitoring service offered to public pension funds, unions, and other institutional investors. As part of Motley Rice's opioid litigation team, he represents dozens of states, counties, cities, towns, and townships in litigation targeting the alleged deceptive marketing and over-distribution of highly addictive opioid drugs. He was also a part of the firm's negotiating team that helped secure resolutions with major U.S. auto manufacturers on behalf of Takata airbag victims. He earned a B.A. and J.D. from the University of North Carolina.
Jim Brauchle represents victims of aviation disasters and passenger rights violations in cases against the airline industry. With more than two decades of courtroom experience that includes both bench and jury trials, he has handled cases from pre-trial practice through trial, post-trial motions and appeals. His cases have included commercial planes, general aviation aircraft, military equipment and helicopters. He has litigated cases against aviation operators, manufacturers, and maintainers. He also proudly supported the firm's work on the aviation security case In re September 11 Litigation. Jim served as a navigator in the United States Air Force from 1991 to 2001 and was one of only five people in the Air Force simultaneously qualified as a C-141 Special Operations navigator, flight instructor and examiner. He is an affiliate member of the International Society of Air Safety Investigators and served on the 2020 Law360 Transportation Editorial Advisory Board. He is the Chair of the AAJ Aviation Section. He earned a J.D. from Rutgers University School of Law.
For over a decade, Sara Couch has represented clients in the courtroom. She began her career as a certified student practitioner and then clerked with the NC Department of Justice. As a Motley Rice associate, she represented clients in cases involving birth control, transvaginal mesh, the public opioid crisis, securities fraud and consumer deception. She helped achieve multiple plaintiff verdicts for tobacco victims and toxic lead paint exposure. An active volunteer in the Charleston community, Sara serves on the Board of Directors for East Cooper Habitat for Humanity and Slow Food Charleston. She was a varsity member of the Duke Rowing Team and earned a J.D. from UNC School of Law.
Through complex medical mass tort litigation, Ann E. Rice Ervin represents people facing unexpected health complications caused by harmful pharmaceutical drugs and defective medical devices. She is a member of the Elmiron litigation Plaintiffs' Steering Committee and also represents clients in cases related to the Philips CPAP device recall, Viagra/Cialis, and Zofran. She has also represented clients in cases related to Actos, Lipitor and Zoloft. Prior to joining Motley Rice, she served as a law clerk while earning a M.A. in bioethics from New York University. She earned a B.A. and J.D. from the University of South Carolina. Ann currently serves as a faculty member of the MUSC Clinical and Translational Research Ethics Fellowship program, is a frequent speaker at legal conferences and law school events. She avidly supports the Dee Norton Child Advocacy Center, MUSC Children's Hospital and all things equestrian, having been a national competitor in the hunter/jumpers disciplines since 1996.
Tope Leyimu focuses her legal practice on helping those injured or killed as a result of corporate wrongdoing, occupational hazards and environmental disease. She represented local governments in litigation targeting the alleged misrepresentation and fraudulent distribution of harmful and addictive prescription opioids. She also represents women injured by defective medical products including transvaginal mesh. Tope earned a B.A. from the University of Central Florida and a J.D. from UVA and has served as the S.C. Association for Justice Women's Caucus Chair, President of the Green Heart Project Board of Directors, as a S.C. Supreme Court appointed member of the South Carolina Access to Justice Commission. She serves on the board of directors of the Charleston Legal Access nonprofit law firm.
Philadelphia-based member Michael Quirk practices in the areas of consumer mass tort, environmental, consumer rights, class action, and appellate litigation. Prior to joining Motley Rice, he was a partner of Berezofsky Law Group, a staff attorney and Equal Justice Works Fellow with Public Justice, and a Supreme Court Assistance Project Fellow with the Public Citizens Litigation Group. He is a member and past co-chair of the Board of Directors of the National Association of Consumer Advocates and has served as an Election Day volunteer voter protection poll observer in Pennsylvania since 2008. He is a graduate of the University of Michigan Law School, Rutgers University and The College of New Jersey.
"Each of these attorneys chosen for membership play a key role in their respective practice areas and have an established reputation for seeking justice for our clients," said Motley Rice Member Committee Chair, Fred Baker. "I look forward to working with this membership class as they help lead the firm into the future."