Fidelma Fitzpatrick a 2021 Law360 Titan of the Plaintiffs Bar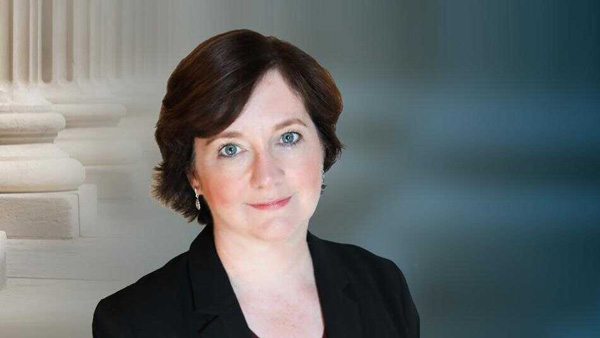 Law360 named Motley Rice attorney Fidelma Fitzpatrick as a 2021 Titan of the Plaintiffs Bar, calling her "a sought-after trial attorney who has gone toe-to-toe with major corporations time after time and won."
Law360 selected Fidelma for the award because of her role in negotiating a $1.6 billion settlement for thousands of women who suffered life-altering effects after receiving Bayer's permanent birth control device Essure®, the legal publication said. Fidelma is Lead Counsel of the Plaintiffs' Executive Committee for the litigation, which is comprised of more than 32,000 cases that are coordinated in California state court. Fidelma credited the women for the case's favorable outcome – many of whom were vocal and forthcoming about their private struggles with Essure, which helped raise public awareness.
"It was just such a powerful testimonial to me of the power to self-advocate, of not taking no for an answer," Fitzpatrick told Law360. "Understanding that when you intuitively know that something is going on, really getting to the bottom of it and taking responsibility for that yourself."
A veteran trial lawyer, Fidelma was recently appointed to the Plaintiffs' Executive Committee for In re Paragard IUD Products Liability Litigation, a national consolidation of cases filed in the Northern District of Georgia, Atlanta Division, by women who allege Paragard® IUD caused their permanent infertility and other life-threatening complications. Fidelma also served as trial counsel in historic litigation People v. Conagra Grocery Products Company, which achieved a $305 million abatement settlement in 2019 to fund the cleanup of toxic lead pigment in homes in 10 California jurisdictions. Sherwin-Williams Company, NL Industries, Inc., and ConAgra Grocery Products Company were defendants in the case.
"I have never been a person who you could tell me 'No, you can't do that' and I would accept it as the way that it is," Fidelma told Law360 when asked what motivates her. "It's just not in my DNA. If somebody tells me it can't be done, I always think 'Well, I'll figure it out. It's gotta be able to be done some way. Let's just think about it differently."
Fidelma told Law360 she strongly considered becoming a doctor before ultimately deciding on a career in law with a focus on medical mass torts and toxic exposure cases.
"I have a great interest in public health issues, I have a great interest in women and children's issues," Fidelma told Law360. "I think I misinterpreted [those interests] as wanting to go to medical school when, in reality, I needed to utilize those interests and those passions in a different way. And it's doing the type of work that I've done throughout my career."
U.S. District Judge John "Jack" McConnell Jr. for the District of Rhode Island, a former Motley Rice member, is one of Fidelma's most influential mentors, she told Law360, and a recommendation from him landed her a place at Motley Rice early in her career.
"And we had high regard for Jack's opinion," Motley Rice co-founder Joseph Rice told Law360. "So we brought Fidelma into the firm at the time and she's proven to be everything that Jack predicted she would develop into as far as a trial lawyer."
Read Law360's full profile on Fidelma Fitzpatrick.
About Law360's Titans of the Plaintiffs Bar
Eleven attorneys spanning the U.S. were selected to receive Law360's Titans of the Plaintiffs Bar award. Recipients are "influential members of the plaintiffs bar who have had significant achievements over the past year," according to Law360. Read more on the award's selection criteria.