Motley Rice nationally ranked for product liability in 2022 Chambers USA guide
Chambers USA recognized Motley Rice as a nationally ranked plaintiffs' law firm today in the launch of its 2022 guide. The guide ranked Motley Rice as Band 1 in the category of USA – Nationwide: Product Liability: Plaintiffs. Motley Rice is one of only three firms to receive the ranking.
Additionally, Motley Rice medical attorneys Fidelma Fitzpatrick, Carmen Scott and Donald Migliori are ranked for the second time as USA – Nationwide: Product Liability: Plaintiffs, Band 3. The firm's co-founder Joe Rice is also ranked this year for the sixth time, and securities lawyer Serena Hallowell is ranked in New York for Litigation: Securities: Plaintiffs. 
"Chambers USA is well-regarded for the depth of research it conducts each year into thousands of law firms across the country. Inclusion in this guide for the work we do for our clients is truly an honor," said Motley Rice attorney Don Migliori. 
Chambers USA ranks law firms and lawyers in all 50 states and at the nationwide level in its "resource for consumers of legal services in the United States." The publication performs its own research, conducting thousands of interviews a year. Chambers emphasizes peer and client interviews when deciding which firms and lawyers to include in the rankings. The publication's researchers "spend several months in carefully analyzing and researching each submitting firm and conducting several thousands of hours of interviews with referees."
Firms and lawyers "need to demonstrate sustained excellence in order to be ranked in the guide," according to Chambers USA. Learn more about the selection process and methodology.
Motley Rice's product liability leadership 
Motley Rice lawyers have influenced some of the most significant cases for plaintiffs in recent years in several practice areas. Led by co-founder Joe Rice as Co-Lead Counsel, Motley Rice is a leader of the National Prescription Opiate Multidistrict Litigation, which aims to hold opioid manufacturers, distributors and pharmacies accountable for their alleged role in causing the opioid epidemic. The firm's representation includes dozens of states, cities, towns, counties and townships in opioid investigations and litigations filed in state and federal courts. 
In 2021, Joe Rice co-led negotiations for a combined $26 billion settlement with Johnson & Johnson and the nation's "Big Three" opioid distributors, AmerisourceBergen, Cardinal Health and McKesson. 
Additionally, the firm's product liability practice played a lead role in negotiating settlements in Rhode Island state court and the Northern District of Georgia for thousands of patients who suffered complications that were allegedly caused by defective Atrium, C.R. Bard and Ethicon Physiomesh hernia mesh products. Motley Rice medical attorney Don Migliori is co-lead counsel for In re Ethicon Physiomesh Flexible Composite Hernia Mesh Products Liability Litigation, and attorney Jonathan Orent is lead counsel for In re Atrium Medical Corp. C-QUR Mesh Products Liability Litigation. Both Don and Jonathan also serve as co-lead counsel, liaison counsel and members of the Plaintiffs' Steering Committee for In re Davol/ C.R. Bard Hernia Mesh.
View Motley Rice's full Chambers USA profile.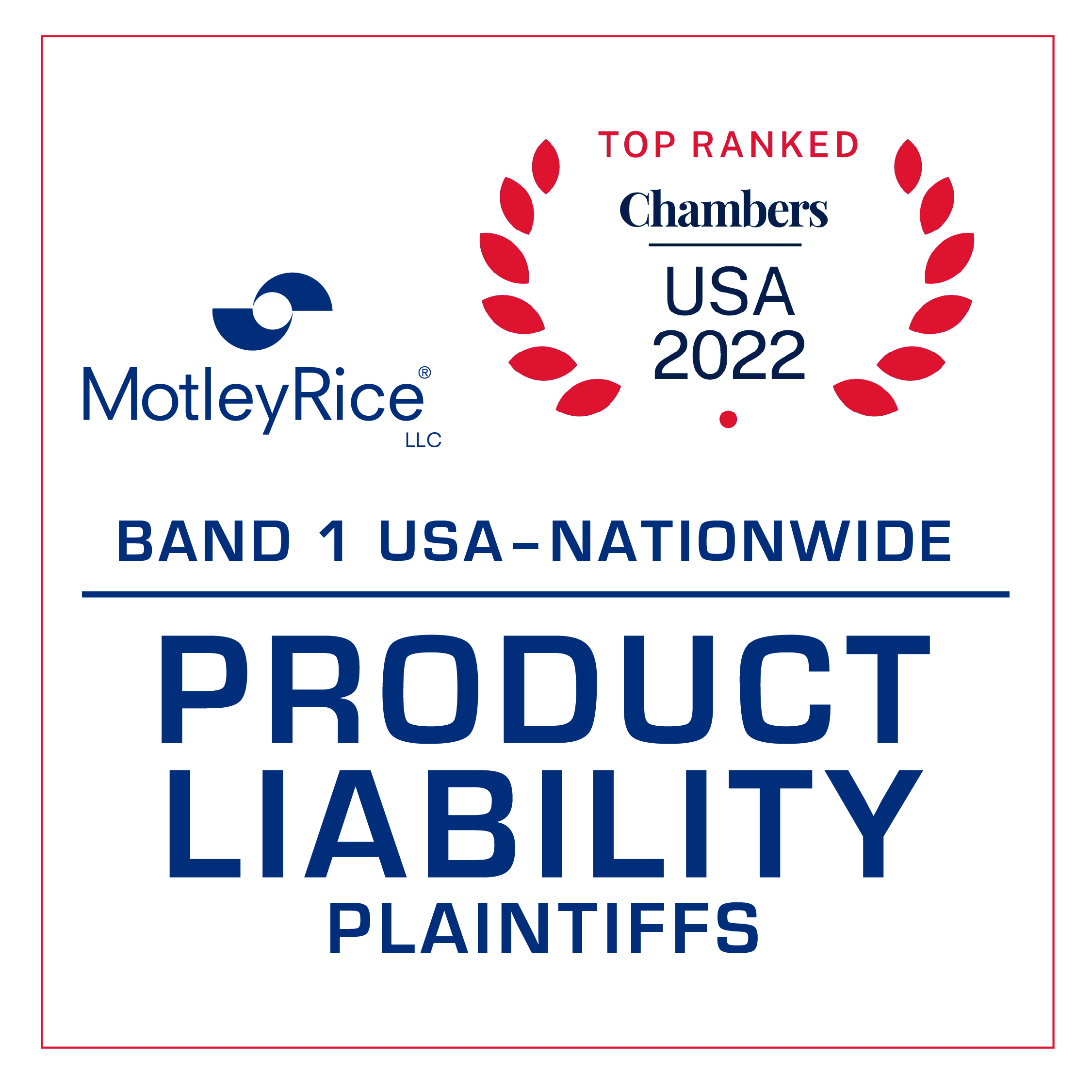 About Chambers USA
Chambers USA ranks lawyers and law firms based on several factors and considerations, including its own research and interviews with clients and lawyers alike in addition to reviewing submissions provided by the law firms. Individual lawyers are ranked in their practice area(s) based on their legal knowledge and experience, their ability, their effectiveness and their client service. An individual lawyer can be ranked while their law firm is not, and vice versa.
According to Chambers USA, the 2022 guide features nearly 9,000 department rankings including more than 1,600 ranked firms and more than 23,500 ranked lawyers. Chambers completed research for the guide between August 2021 and February 2022. Rankings were included across all 50 states as well as nationally. Read more.